Exclusive Interview With Author Jessica Marie Baumgartner & Review of Her Book 'The Magic of Nature: Meditations & Spells to Find Your Inner Voice'
The Magic of Nature
Meditations & Spells to
Find Your Inner Voice
by Jessica Marie Baumgartner
Publisher: Llewellyn Publications
240 Pages
Publication Date: 5/08/2021
…. As technology has advanced, we have distanced ourselves from nature-but our connection still remains. Now is the time to reopen that line of communication. This down-to-earth book is full of guidance on preparing the body, mind, and spirit as you hike, hunt, swim, garden, sleep outdoors, and more….. 1.
The Magic of Nature: Meditations & Spells to Find Your Inner Voice by Jessica Marie Baumgartner is a call to return to our organic roots and reminder of the reciprocity established when humanity and nature work in collaboration with one another.
Chapter 1: Earth Meditations takes the reader on a journey of brief contemplatives that align with the many aspects of the natural world. These using the elements of nature as the focus. Earth is enjoyed with tree meditations, Wind moves through the seasons of winter wind to autumnal gusts; Fire becomes an exploration of campfires and bonfires; and Water flows from creeks and streams, ponds and rivers.
The remaining chapters take quite a different approach to what one would traditionally expect of a book about reaffirming our path of nature and connection to the environment. I appreciate the novelty of this approach and the reminders that everything is an action of the sacred and has impact on all beings.
Chapter titles include: Gardening, Hiking, Swimming, Sleeping Outdoors, Fire, Trees, Hunting/Fishing/Foraging, and Handiwork. All of these offer alternative perspectives and include areas that would traditionally fall more into a category of the mundane. This is the overall tone of the book, which keeps the reader alert to what may be shared page-to-page.
Chapter 2: Gardening of The Magic of Nature: Meditations & Spells to Find Your Inner Voice speaks to topic many can relate to, mundane and magical alike. Ms. Baumgartner takes many of the staples of this subject and transforms them into a broader and more inclusive way of approach and understanding. The section titled "Indoor Gardening" reminds the reader that there are many more benefits to growing plants that are often overlooked…
…. Plants clean the air. As concerns about pollution exist everywhere, purified air is a gift. The lungs respond better to filtered air. The heart becomes healthier, and blood flow and skin become healthier as a result. The benefits of fresh air help ease the mind. When we can breathe deeper and receive the full effects of proper airflow, we can better manage our pain, thoughts, and actions…. 2.
Each of the gardening styles-backyard, community, indoor-is followed by a discussion of the gifts of these activities to mental and spiritual health. This format allows for a nice cohesion of mind and spirit.
Chapter 9: Handiwork reaches into skills such as woodworking, mechanics, glass working, black smithing, as well as the usual associations of knitting, sewing, crocheting and quilting. The reader is again gifted with thinking outside of the box and incorporating what is normally considered mundane work into a space of the sacred.
Chapter 10:Trust was an intriguing addition to this book and from the first paragraph makes clear its intention and need to be part of the work…
…. When connecting to our instincts, we must learn to trust our purpose, ourselves. If we cannot trust our own intuition, we will second-guess the power inside and block our ability to flourish spiritually. The necessity to listen to the inner voice and decipher the difference between needs, wants, and regrets is eminent…. 3.
Call it instinct. Call it confidence. Call it knowing. It all is folded into the single semantic of "trust". Ms. Baumgartner offers the reader the necessary pep talk and the rationale for coming to realization that trust is the most important component in any work of magic or of the mundane. There is a wonderful contemplative activity offered in the beginning of the chapter that really prepares the reader for digging more deeply into how they can develop this necessary sense of trust in themselves.
Spells and practical application flows consistently throughout The Magic of Nature: Meditations & Spells to Find Your Inner Voice, giving the reader plenty to actively engage with and experiment in making these endeavors a personal expression of their magic. This was by and far my favorite chapter, primarily because of the depth and sensitivity given to a topic that is difficult for many to fully embrace-that of trusting themselves. Ms. Baumgartner extends this exploration of trust into that of family, community, nation, planet, and the universe. This all-inclusive approach reaches into our place in the cosmic realms as well as those that we serve here on earth.
Notes:
From the Publisher

Chapter 2: Gardening

Chapter 10: Trust

Conclusion
Exclusive Interview:
I had the pleasure of interviewing Jessica to learn a bit more about the process of writing her book, her story and favorite recommendations…
Robin Fennelly (RF): Could you tell us about your personal path into paganism?  
What experiences did you use then to connect with the natural world? How has that changed for you now?
Jessica Marie Baumgartner (JMB): Sure. Like many modern Pagans, I was raised in a Catholic household, but my mom always taught me that "religion is a man-made thing." She encouraged me to study and find my own way.
I was an animal-loving-nature-nut from the start. I've always been one to let the wind blow me in the right direction and the Gods were watching me from the trees.
When I was a child I caught my first fish by hand, my dad taught me to hunt with a respectful influence that strengthened the slight Native American heritage in my blood. Then, when I was a teenager, a younger friend of mine was murdered with his entire family and that led me to actively seek out religious understanding. As time went on there was more loss and other tragedies, but my Gods have guided me with compassion and understanding.
Hiking a specific nature reserve (Rockwoods reservation) where the land had been rehabilitated after being decimated by mining in the Industrial Age was most healing. When contemplating the quiet of the natural world I found meditative power. My own instincts were strengthened and I was better able to understand myself, and the world around me.
RF: Why did you choose to organize your book in a way that reaches beyond the traditional ideas around connecting to nature?
JMB: I love this question! My mother is a Christian, my sister is an Atheist, and my husband is a Jewish mystic. Religion is a very personal aspect of life and instead of drawing lines of dividing areas of interest to create more boundaries I wanted to reach out to everyone on a more spiritual level. Because I am so connected to nature, this was really the only way to do that. Our natural connections are at the core of who we are. It is where our origins are more closely tied to our creation. I hope that shines through in every page.
RF: What is your favorite recommendation/activity in the book? Why?
JMB: The Climbing Tree Meditation is my personal favorite. Hands down, or branches up? Ha!Ha!
I love getting my feet off the ground and challenging myself physically. It's definitely not for everyone. But there's something about getting sap all over my palms and pine needles in my hair that reminds me of my purpose. Maybe it's because I'm a kid at heart. (Not to be mistaken for immature-I can be the stoic adult when needed) Most kids climb trees, I just never stopped.
RF: What would you suggest to someone new to a nature-based path as a foundational first step?
JMB: I would definitely suggest that anyone looking to get further involved in paganism, or another nature-based path needs to practice stepping away from modern technology on a regular basis. Turn off the phones, computers, TV, radio, etc. once a week or even once a month to help listen to yourself.
Do more activities in nature: hiking, swimming, or just sitting and bird watching. All physical levels can enjoy fresh air and sunshine, even if they can only just open a window or sit on a porch. If these are already regular practices, use these activities in meditation and go from there.
RF: What would you recommend to someone well acclimated to a nature-based path that may be something they didn't know? 
JMB: For those who have been at this for a while, stepping away from the traditional circle and leaving their matches and candles behind may seem odd. Our rituals and the materials that help build energy are very important and useful, but there are practices that can be better executed with just the power of a strong spirit and that is a very important lesson.
So many of us come from humble backgrounds. I was raised poor and learned to make do with what I have. We don't need to spend astronomical amounts of resources on gathering crystals, incense, and expensive candles. Yes, those elements can aid us in our workings, but they are merely the physical representations of the magic within us that aids us to better connect with our power. We can create balance and change with little to no objects involved.
RF: You have authored pagan children's books. What would be your suggestion for ways to engage children in the modern natural world as its future stewards? 
JMB: Kids are so much smarter than we give them credit for. I was raised with (what felt like) a thousand baby cousins. I'm a mother of 4 and definitely a mama birdie.
Getting children outside to explore and enjoy the wonders of our world is the most important element of raising people who care about nature. I can't stress that enough. We have to limit screen time, and get children back outside as often as possible so they can realize just how many adventures await!
Kids love running around outside, planning flowers, climbing trees, swimming in lakes, eating fresh grown fruits & veggies, screaming into the wind, rolling down hills, chasing butterflies, fishing, playing with bugs, and so much more. We just need to give them more opportunities to do so. Parents, teachers, babysitters, friends & family, and our leaders need to encourage more of these special activities to keep future generations engaged in the magic of nature.
RF: If there was a single important take-away from your book that you would like all of your readers to embrace, what would that be?
JMB: That's a tough question. I would have to say that all my work centers around one specific theme: love. No matter where you come from, how you go, what you believe, look like, or the experiences that challenge the future, I hope everyone remembers that the basis of a fulfilling existence is love.
Building that great purpose and sharing it with balance and understanding is the most important element of this work.
Would I Recommend:
The Magic of Nature: Meditations & Spells to Find Your Inner Voice by Jessica Marie Baumgartner offered some thought provoking moments for the reader. The vision that Ms. Baumgartner held for the content and possibilities shared in this book was fully realized in the writing and with the inclusion of many foci that still remain elusive to many.
…. We are on the verge of a better way. Being part of the shift and solving our current problems is not about being right and furthering political divides—it is about coming together to love and respect every aspect of life. There are many ways to find fulfillment in existence. Connecting with nature to draw out the instincts hidden within us offers us the balance needed to live with a higher purpose…. 4.
The opening paragraph of the Conclusion is both a statement of truth and a wish for humanity to reclaim the responsibility for all living things that is inherent in an evolved species. We need fresh voices and those who share a panoramic view of the beauty to be found in claiming the sacred in all manner of nature and natural endeavors. We need to be reminded of a gentler way of living that is sustainable and attuned to the best we can be. Ms. Baumgartner is one of those much-needed voices and The Magic of Nature: Meditations & Spells to Find Your Inner Voice will help you cultivate yours.
Notes:
From the Publisher

Chapter 2: Gardening

Chapter 10: Trust

Conclusion
About Author Jessica Marie Baumgartner
Jessica Marie Baumgartner (St Peters, MO) is the author of two award-winning, critically acclaimed Pagan children's books and a novella on magical awakenings. She has written for Conscious Shift Magazine, The New Spirit Journal, Chicken Soup for the Soul, Circle Magazine, The Witches' Voice, SageWoman, and others. You can find out more about her on her webpage.
The Magic of Nature: Meditations & Spells to Find Your Inner Voice on Amazon
***
About the Review Author: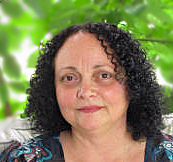 Robin Fennelly is an Elder within The Assembly of the Sacred Wheel Tradition and serves as High Priestess of Coven of the Mystic Path, the 12th Coven within the Assembly of the Sacred Wheel Tradition. She teaches and facilitates classes for the Pagan Experience Study Group that serves as foundation for membership within Coven of the Mystic Path.  
Her spiritual journey is strongly rooted in both Eastern philosophy and the Western Magical systems from which she has formed a core foundation that is diverse in knowledge and rich in spiritual practice.  A life-long learner, her practice has evolved from the classical and philosophical teachings of books, practical experience and enrichment of this knowledge base by attending workshops of various spiritual traditions presented by master teachers.
Robin formally came to the Wiccan path in 1994. Following a practice as a solitary for 2 years, she dedicated to Oak and Willow Coven of The Assembly of the Sacred Wheel Tradition in November of 1996. She received her 1st, 2nd, 3rd and 4th (Elder) degrees within the Assembly Tradition and has served as High Priestess of two ASW covens since Samhain of 2001 and the Winter Solstice of 2015.

As a teacher of esoteric and magical studies she uses Energetic Anatomy, Tarot, Astrology, Hermetic Qabala, Eastern Philosophy, and Numerology as the foundations of her diverse selection of workshops and writings for more than 25 years. Exploration of varied energetic protocol has been the focus of her work for some time now and the information gained through direct experience informs all of her magical and spiritual work.
Robin's writings have been featured online, and in print Internationally.  She has authored several books incorporating her unique style of writing making use of poetry, prose and pathworking to enhance the concepts presented.  She has taught extensively throughout the Pagan community, including Sacred Space Conference, Spring Magic, Between the Worlds Interfaith Conference and Free Spirit Gathering Festival. Her most recent projects include a channel on youtube: A Journey to the Inner Chamber. She also shares audio pathworkings and ritual on her bandcamp site: Teachings on the Path with Robin.
Robin is the owner of Holistic Embrace providing services for mind, body and spirit such as Tarot readings, Astrology reports, Spiritual Guidance and other related offerings.  She lives in Eastern Pennsylvania and her life is blessed by a 40+- year marriage, five children and the opportunity to work in the field of public education.
Robin's Website: www.robinfennelly.com
Coven of the Mystic Path, ASW: www.covenofthemysticpath.org
Her books can be found on Amazon or purchased directly through her website:
For more info: http://www.robinfennelly.com/books.html
The Inner Chamber, Vol. 1 It's Written in the Stars-Astrology
The Inner Chamber, Vol. 2 Poetry of the Spheres-Qabalah
The Inner Chamber, Vol. 3 Awakening the Paths-Qabalah
The Light of SELF: Consciousness, Spiritual Practice and Learning to Breathe
Magical Verse: A Collection of Poetry and Prose
A Year of Gaia: The Eternal Cord
The Elemental Year: Aligning the Elements of SELF
Temple of the Sun and Moon: Luminous Devotions
Sleeping with the Goddess: Nights of Devotion
A Weekly Reflection: Musings for the Year
The Magical Pen: A Collection of Esoteric Writings
The Enchanted Gate: Musings on the Magic of the Natural World
The Temple of the Sun: An Astrological Solar Year
Writings in the Shadow: An Exploration of the Shadow Nature