Book Review – Tarot & Tequila by David Ross
Book Review
Tarot & Tequila
by David Ross
Publisher: Tiller Press
272 Pages
Publication Date: July 13, 2021
Tarot & Tequila by David Ross, is due for release in the summer of 2021. It will be published by Tiller Press, an imprint of Simon & Schuster, Inc., 1230 Avenue of the Americas, New York, NY 10020. Because this book is not yet available, I am previewing and reviewing a pre-release digital copy. The published version will be either a 272 page hardback or a Kindle e-book. Copyright 2021 by David Ross.
Tarot & Tequila is both a Tarot guide and a mixology recipe book. It begins with an Introduction written by the author describing his personal journey that creates this book. David Ross tells of purchasing a tiny Tarot deck in Santa Fe, New Mexico, which encouraged him to learn about the Tarot. David performed readings for over 25 years, including hosting Tarot reading nights at local bars and restaurants. This led him to work with tequila marketers and the creation of the forty tequila-based cocktail recipes included in the book (one for each Major Arcana card plus many Minor Arcana drinks) based on the attributes of the cards. Sounds like fun, yes?
Next comes a section entitled Tools of the Trade. David has provided a list of tools we might need to enjoy the many cocktails provided in the book, because "whether you're a mixologist or a Wiccan, you will need the proper items to help correctly make your cocktails/potions." Like his card meanings, David describes the tools in a light-hearted mystical manner, including common mixology tools such as jiggers, juicers, cutting boards and cocktail strainers as well as candles, crystals and a familiar.
The Major Arcana card descriptions are next, and they are archetype-focused. Each card description has a full-page card image (from a truly awesome sugar skull themed deck) and four definition categories: Basic Definition, Reversed Basic Definition, Tequila Definition, and Reversed Tequila Definition. The Basic Definitions are more traditionally focused, while the Tequila Definitions are tequila-inspired, centered on alcohol, bars of all kinds, and social interactions at those bars. The Tequila Definition for Strength talks about surviving a bar crawl, Justice talks about the great feeling when you buy a friend a drink and they offer to pick up the next round, Temperance talks about the alchemy of making the perfect cocktail, The Tower describes the dismay when things get out of control after a long evening and we realize that our credit card is missing, and The Moon describes that feeling we get when we've had too many drinks. Each Major Arcana card has a Mystical Pairing, a description of the cocktail associated with the card and the reasons it was chosen, and the recipe (complete with instructions for the creation of special ingredients) for the cocktail associated with the card.
The Minor Arcana section card descriptions are more day-to-day focused, and are set up the same way as the Majors, with a full-page card image of that awesome deck, a Basic Definition, Reversed Basic Definition, Tequila Definition and Reversed Tequila Definition. The Three of Swords is the one card in the entire Tarot that always makes me feel uncomfortable. The Tequila Definition for this Minor Arcana card describes breaking up over the phone while out socially, and trying to stay outwardly unaffected while inside your heart is hurting, a perfect metaphor for this card. Not every Minor Arcana card has a Mystical Pairing and a cocktail recipe, but they are sprinkled generously throughout the Minor Arcana section.
There are no spreads presented in this book. The author prefers the 10-card Celtic Cross, but he recommends that you use whatever spreads you feel most comfortable with. You don't need to consume cocktails or frequent bars in order to understand and make good use of the four different categories of card descriptions in Tarot & Tequila, or to access the happiness and positive energies presented in David's well-described versions of the cards of the Tarot. The card descriptions work because they allow us to relate to each Tarot card in a new and refreshing way by connecting the cards to everyday situations. The Mystical Pairings essays that accompany the cocktail recipes also offer deeper connections to the individual cards through beautiful visualizations that help manifest the desired aspects of each card.
Tarot & Tequila blends the spirits of the Tarot with the spirits of alcohol, pun intended! While presented in a lighthearted manner, the card descriptions, both Basic and Tequila, resonate because David explains each card by using real situations to which we can all connect, whether we are fans of alcohol, of bartenders , or the Tarot. Creating and maintaining a connection to the personality of each of the cards of the Tarot is a great way to effectively make use of the deck, and Tarot & Tequila is a useful recipe to create this very connection.
Oh and once you buy the book (and you should), if you like the deck as much as I do, it becomes available for purchase on September 28 of this year. Mark your calendar; I have.
David Ross is a medical sales representative by day and a band player and Tarot card reader by night. He created a business called Tarot and Tequila, where he reads Tarot cards for people in restaurants and bars, or any place that serves tequila. He lives on the Jersey Shore with his wife and children.
Ryan Loughran, the first son of two great bartending parents, began bartending in New Brunswick, NJ. He and his wife are both bartenders, Ryan in Red Bank NJ, and his wife in Asbury Park NJ.
Lindsey Taylor has been bartending and designing cocktails for more than 20 years. She has appeared on Emeril Live and in various magazines as a tiki specialist, and is opening her own bar in Asbury Park, NJ.
Tarot & Tequila: A Tarot Guide with Cocktails (Sugar Skull Tarot Series) on Amazon
***
About the Author: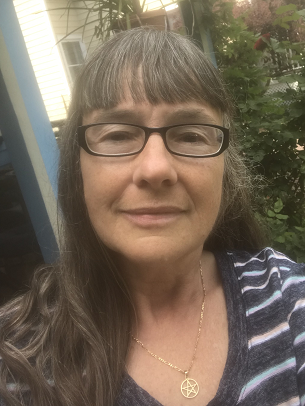 Raushanna is a lifetime resident of New Jersey. As well as a professional Tarot Reader and Teacher, she is a practicing Wiccan (Third Degree, Sacred Mists Coven), a Usui Reiki Master/Teacher, a certified Vedic Thai-Yoga Massage Bodyworker, a 500-hr RYT Yoga Teacher specializing in chair assisted Yoga for movement disorders, and a Middle Eastern dance performer, choreographer and teacher.  Raushanna bought her first Tarot deck in 2005, and was instantly captivated by the images on the cards and the vast, deep and textured messages to be gleaned from their symbols. She loves reading about, writing about, and talking about the Tarot, and anything occult, mystical, or spiritual, as well as anything connected to the human subtle body. She has published a book, "The Emerald Tablet: My 24-Day Journal to Understanding," and is currently working on a book about the Tarot, pathworking and the Tree of Life. Raushanna documents her experiences and her daily card throws in her blog, DancingSparkles.blogspot.com, which has been in existence since 2009. She and her husband, her son and step son, and her numerous friends and large extended family can often be found on the beaches, bike paths and hiking trails of the Cape May, NJ area.