Book Review – The Zenned Out Guide to Understanding Tarot: Your Handbook to Reading and Intuiting the Tarot by Cassie Uhl
Book Review
The Zenned Out Guide
to Understanding Tarot
Your Handbook to Reading
and Intuiting the Tarot
by Cassie Uhl
Publisher: Rock Point
184 Pages
Publication Date: October 18, 2021
The Zenned Out Guide to Understanding Tarot: Your Handbook to Reading and Intuiting the Tarot by Cassie Uhl, founder of the Zenned Out series, published by Rock Point, an imprint of The Quarto Group, 142 West 36th Street, 4th Floor, New York, NY 10018. Copyright 2021 by Quarto Publishing Group, USA Inc., and text and illustrations copyright 2021 by Cassie Uhl.
Practical Tarot Techniques is a 6 inch by 8 inch hard cover book with a matte finish full color front cover showing the book's title, and a back cover containing a description of the book and cover images of four other Zenned Out books. It contains 183 pages with black print on creamy white paper with the slightest of pastel marbling. The paper is smooth and nicely sturdy, and invites repeated use (and you will definitely want to use this book often).
This great how-to-read-the-Tarot book manifests its title, for it does offer a detailed understanding of the Tarot. The first 89 pages of the book offer lots of information on quite a few topics in which any Tarot enthusiast would be interested. Chapter 1 gets the reader started with the Tarot, offering a short version of the history of the cards, the structure of a Tarot deck, how the whole process works, some common terms, and instructions for choosing your first deck. Chapter 2 talks about correspondences, with a nice section on the elements, followed by some info on numerology and astrology. Chapter 3 offers suggestions for working with the cards, including journaling, self-reflection, shadow work and energy-focused readings; this chapter also offers some information about archetypes, divination, magick and spellwork, as well as great information for using intuition and performing intuitive readings. There is even some info on reversals, and on dealing with "bad" cards and difficult readings. Chapter 4 offers instructions regarding card spreads, offering information on one and three card spreads, how to perform an energy report spread, a six-card journey spread, a 12-month spread, as well as suggestions for creating your own spreads. Throughout all of these chapters are great Tips presented in colorful highlighted frames.
The last two chapters offer information regarding the individual cards. Chapter 5 covers the Major Arcana cards and offers a page for each card with a color card image from Uhl's Zenned Out Journey Tarot Deck, along with upright and reversed interpretations. Chapter 6 covers the Minor Arcana, with descriptions of the four suits, as well as a page for each Minor Arcana card containing a color image of the card and upright and reversed interpretations. Following the information on the individual cards is a handy list of key phrases for each card in the Tarot deck. The book ends with a message and a thank you from the author, some biographical information, and a list of references.
This is one of the most useful how-to-read books I have reviewed. There is certainly enough information on the individual cards to get a new reader started, but the real value of this book is that it touches on many of the tools and traditions that contribute to the depth and texture of the meanings of the individual cards. The Zenned Out Guide to Understanding the Tarot offers a great starting off point for exploring and studying the symbolism behind the cards, and integrating the images and card stories into interpretations and readings. If you are a beginner to the Tarot, or an intermediate reader who wants to know more about the images and symbolism associated with the cards, this is the book for you.
Cassie Uhl is a published author, artist, intuitive, and the founder and owner of Zenned Out, the spiritual brand she created with a mission to normalize spirituality. She has published four Zenned Out books, an interactive series called Goddess Discovery Book, and an oracle deck called The Ritual Deck. She received her 200 hour Yoga Teacher Training in 2012, and she focuses on energy work, journeying, mediumship, death midwifery, and Celtic shamanic healing. You can find out more at her website, zennedout.com.
The Zenned Out Guide to Understanding Tarot: Your Handbook to Reading and Intuiting Tarot (Volume 4) on Amazon
**
About the Author: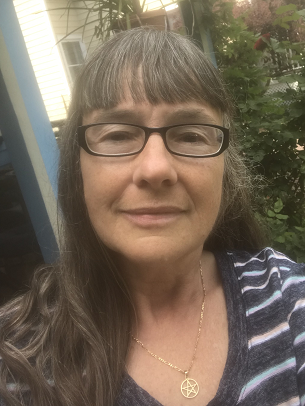 Raushanna is a lifetime resident of New Jersey. As well as a professional Tarot Reader and Teacher, she is a practicing Wiccan (Third Degree, Sacred Mists Coven), a Usui Reiki Master/Teacher, a certified Vedic Thai-Yoga Massage Bodyworker, a 500-hr RYT Yoga Teacher specializing in chair assisted Yoga for movement disorders, and a Middle Eastern dance performer, choreographer and teacher.  Raushanna bought her first Tarot deck in 2005, and was instantly captivated by the images on the cards and the vast, deep and textured messages to be gleaned from their symbols. She loves reading about, writing about, and talking about the Tarot, and anything occult, mystical, or spiritual, as well as anything connected to the human subtle body. She has published a book, "The Emerald Tablet: My 24-Day Journal to Understanding," and is currently working on a book about the Tarot, pathworking and the Tree of Life. Raushanna documents her experiences and her daily card throws in her blog, DancingSparkles.blogspot.com, which has been in existence since 2009. She and her husband, her son and step son, and her numerous friends and large extended family can often be found on the beaches, bike paths and hiking trails of the Cape May, NJ area.
The Emerald Tablet: My 24-Day Journal to Understanding on Amazon