Book Review – Tarot for Troubled Times: Confront Your Shadow, Heal Your Self, Transform the World by Shaheen Miro and Theresa Reed
Book Review
Tarot for Troubled Times: Confront Your Shadow, Heal Your Self, Transform the World
by Shaheen Miro and Theresa Reed
288 pages
Tarot for Troubled Times: Confront Your Shadow, Heal Your Self, Transform the World is written by Shaheen Miro and Theresa Reed, published with a copyright of 2019 by Red Wheel/Weiser, LLC, 65 Parker Street, Suite 7, Newburyport, MA 01950. This is a 6 inch by 9 inch soft cover book with a matte color illustration on the front cover and a book description, author photos and brief author bios, and book reviews on the back cover. There are 274 pages with black typeface printed on white paper.
We begin with an introduction by the authors that lets us know this is not an ordinary "how to read the Tarot" book. Tarot For Troubled Times is, as its title infers, a handbook for surviving during times of stress or chaos by becoming familiar with our shadow in order to liberate ourselves from the old patterns and limiting beliefs that bind us. Learning about personal fears, the power of archetypes, and the methods for finding our own inner light, are the foundations that allow us to expand our awareness outward and beyond ourselves, all accomplished through the lens of the Tarot.
The book continues with ten detailed chapters, beginning in Part One with The Fool, The Tower, and Strength not as Tarot cards but as personalities and archetypes. Throughout the 76 pages of Part One, the authors take us inward on a very personal, deep journey with the potential to bring positive change by asking questions and offering exercises and rituals that shine a light on the dark depths of the Self as you "confront your Shadow."
Part Two begins to focus on the cards themselves. I love the fact that archetypes are presented at the beginning of this section, and the reader is offered a description of each of the 22 archetypes of the Major arcana before seeing the card images and keywords. Once the archetypes are defined, a set of Major Arcana card descriptions follow, one card per page showing a card image, an Affirmation, Positive keywords, Shadow keywords, and important to the theme of the book, Actions to be taken. The next section describes the process for throwing a Year Card, and then revisits the Major Arcana cards, offering an Affirmation, a Positive description of the year ahead, and a Shadow description of possible negative influences.
The elements are introduced next, along with the suits of the Minor Arcana, and the creative processes associated with them. I like the detailed descriptions of the suits and their elemental correspondences; to me, understanding the effects of the card number and the element associated with the card can show us exactly what an individual Minor Arcana card represents. The book continues by offering keywords for all 78 Tarot cards, detailed steps for healing with tarot which includes lots of information about spreads, their structure, and their uses, and the processes for using magick within rituals and spells in order to support your work with this book, as you "heal your Self."
Then the focus is shifted from inner work to outer work, with the calculation of an Influence card, and another revisit of the Majors with an Affirmation, Positive influence and Shadow influence. The last two chapters bring this outer focus to new levels, giving us possible methods for manifesting what we have learned about ourselves into the world through holding space, communicating around the dinner table, being an ally or an activist, running for office, and other group events, all methods to "transform your world." The book ends with suggested books and Tarot decks, some self-help resources, and author bios.
This is not a book for beginners seeking to learn how to offer Tarot readings, but that does not mean a beginner would not benefit from Tarot for Troubled Times. Divination is not the focus here, but rather we are encouraged to use our Tarot cards as tools for personal growth, personal counseling, and as tools to change our world for the better.
Anyone can make use of the information and methods presented by Miro and Reed, even if they have never read a Tarot book or held a Tarot card in their hands. Perhaps this is a description of how the Tarot will be used in the future, not so much for passively divining what the future will bring to us but rather, as a tool and a method for actively manifesting the future we desire.
***
About the Author: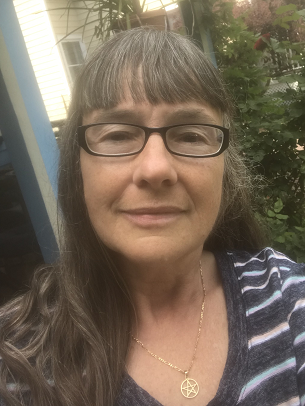 Raushanna is a lifetime resident of New Jersey. As well as a professional Tarot Reader and Teacher, she is a practicing Wiccan (Third Degree, Sacred Mists Coven), a Usui Reiki Master/Teacher, a certified Vedic Thai-Yoga Massage Bodyworker, a 500-hr RYT Yoga Teacher specializing in chair assisted Yoga for movement disorders, and a Middle Eastern dance performer, choreographer and teacher.  Raushanna bought her first Tarot deck in 2005, and was instantly captivated by the images on the cards and the vast, deep and textured messages to be gleaned from their symbols. She loves reading about, writing about, and talking about the Tarot, and anything occult, mystical, or spiritual, as well as anything connected to the human subtle body. She has published a book, "The Emerald Tablet: My 24-Day Journal to Understanding," and is currently working on a book about the Tarot, pathworking and the Tree of Life. Raushanna documents her experiences and her daily card throws in her blog, DancingSparkles.blogspot.com, which has been in existence since 2009. She and her husband, her son and step son, and her numerous friends and large extended family can often be found on the beaches, bike paths and hiking trails of the Cape May, NJ area.