Book Review – The Little Book of Self-Care for Libra by Constance Stellas
Book Review




The Little Book of Self-Care for Libra




Simple Ways to Refresh and Restore – According to the Stars




by Constance Stellas
160 Pages
Bright Blessings, Readers!
I am glad to be reviewing this great guide to why it is important to take care of yourself, and even happier to say, that author Constance Stellas has guides for all twelve signs!
An accomplished astrologer in print, she also teaches, and helps clients in both the United States and Greece. She has written for such illustrious publications as the New York Times and Marie Claire. She's been a practicing astrologer for over 20 years, and she really knows her stuff.
For the Libra book, the front cover illustrates all things many view as Libran. It's pink, gorgeous, and the images are harmonious. The image of blind justice holding the scales is beneath beautiful blossoms, and next to it, beautiful blue flowers contrast the pinks. Already, I'm drawn in by the gorgeous art.
That's just for looks, though.
What matters is the truths within the content.
Stellas writes, " Self- care is restorative. Self-care is clarifying. Self-care is whatever you need to do to make yourself feel secure in the universe. Now that you know what self-care is, it is also important to see what self-care isn't. Self-care is not something that you force yourself to do because you think it will be good for you. Some signs are energy in motion, and sitting still goes against their place in the universe. Those signs won't feel refreshed by lying in a hammock, or sitting down to meditate."
So true!
I have read plenty of publications about self-care, many of which tell everybody to do all the same things, and that it all works for everybody. Generally, these basic lists tell us all eating often unhealthy but good tasting things, sitting around doing nothing, and going expensive places, spending a lot of money is 100% the only way to practice self-care. Stellas refreshingly, knows better.
Her book emphasizes that we are all individuals, even within our sign, and what works for one person, might not work for the next person.
This is why she spends a short time explaining what Libra is- which most people picking up an astrology book with such a specific focus would already know- a short time discussing self-care, what it is, the reasons for it, and defines what astrology is, what the signs are, the meaning of things like elements, polarities, qualities, symbols, and planetary rulers. Then the rest of the book is her amazing tips. She lists over 100 of them, and writes a bit about each of them.
One of my favorites one is " Pay someone a compliment." She writes, "Cultivating connections with people, even if it is just for a moment as you pass a co-worker in the hallway or hug a friend goodbye, delights Libra's outgoing, and sociable nature."
Another I especially like is " Avoid negative conversation overload." This is one I REALLY have to watch for. I am one of the people who is told "You are so easy to talk to, and such a great listener." For one thing, I am interested in other people, and I make very good eye contact in conversations because I am deaf and read lips. So, people, unfortunately, can hold me hostage for bitch sessions I don't want to be involved in if I don't leave the conversation. Stellas writes, " Don't let yourself get burned out by tuning into negative conversations that don't involve you…Take a break and step away from the conversation, head outside for some fresh air, or redirect your focus toward something less draining and more relevant to you." Stellas knows just how to word things. I, and many other Librans feel VERY guilty turning somebody away who is upset, but Stellas rightfully reminds us that Libra can't fix everything, most especially if said upset individual, is, as Stellas says, draining us.
It is not easy to hear the truth sometimes, but Stellas words things so well, even sensitive Librans will not be upset by the truth.
Whatever your sign is, nab A Little Book of Self-Care by Constance Stellas.
Here are links to her page where you can find them.
Blessed Be!
***
About the Author: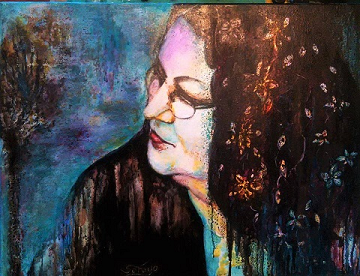 Saoirse is a practicing witch, and initiated Wiccan of an Eclectic Tradition.
A recovered Catholic, she was raised to believe in heaven and hell, that there is only one god, and only one way to believe. As she approached her late 20's, little things started to show her this was all wrong. She was most inspired by the saying "God is too big to fit into one religion" and after a heated exchange with the then associate pastor of the last Xtian church she attended, she finally realized she was in no way Xtian, and decided to move on to see where she could find her spiritual home.
Her homecoming to her Path was after many years of being called to The Old Ways and the Goddess, and happened in Phoenix, Arizona. She really did rise from her own ashes!
Upon returning to Ohio, she thought Chaos Magic was the answer, and soon discovered it was actually Wicca. She was blessed with a marvelous mentor, Lord Shadow, and started a Magical Discussion Group at local Metaphysical Shop Fly By Night. The group was later dubbed A Gathering of Paths. For a few years, this group met, discussed, did rituals, fellowship, and volunteering together, and even marched as a Pagan group with members of other groups at the local gay Pride Parade for eight years.
All the while, she continued studying with her mentor, and is still studying for Third Degree, making it to Second Degree thus far.
She is a gifted tarot reader, spellworker, teacher, and was even a resident Witch at a Westerville place dubbed The Parlor for a time.
Aside from her magical practice, she is a crocheter, beader, painter, and a good cook. She has been a clown and children's entertainer, a Nursing Home Activities Professional, a Cavern Tour Guide, a Retail Cashier, and a reader in local shops. Her college degree is a BA in English Writing. She tried her hand at both singing and playing bagpipes, and…well…let's just say her gifts lie elsewhere! She loves gardening, reading, antiques, time with friends and soul kin, and lots and lots of glorious color bedecking her small home!
On the encouragement of a loved one several years back, she searched for a publication to write for, and is right at home at PaganPagesOrg.
She is currently residing in Central Ohio with her husband, and furbabies.
Saoirse can be contacted at [email protected].