Review of Little Miss Sumo
Bright Blessings, Film lovers!
I've always been a huge fan of Sumo Wrestling since watching the first match on TV I ever saw of it. In a country- America- where sports fans and athletes tear each other apart, and get into fights on the playing fields- it is downright refreshing to me to see the courtesy, pride, and poise Sumo Wrestlers exhibit. I have never seen a more polite, or regal sport.
Tonight, I learned something about it, though.
Traditionally, Sumo is for men only- but for many years, many little girls and women around the world have done Sumo wrestling, although it is not accepted in Japan, and there is no professional league for female Sumo Wrestlers!
These brave ladies, young and old do not let societal norms stop them, and they are working on getting female Sumo Wrestling equal status to male Sumo Wrestling.
The film, Little Miss Sumo, is only 19 minutes long, but delves into a whole world most of us know nothing about. Here is a trailer for you to enjoy:
The film follows female 20 year old Sumo Wrestler, the lovely Hiyori Kon, showing videos and photos of her competing as a child- beating boys and girls, and her travel to a world competition where she plans to become the top female Sumo Wrestler in the world.
She speaks at length about what it is like in Japan for female Sumo Wrestlers, and females in general. She says, women in Japan are taught that to be "perfect" means to be silent, and to walk three steps behind a man. She shares her personal training regimen, and sadly says she has to retire by age 21. She and a therapist speak of the fact they say age 30 is the peak for a male Sumo Wrestler, but she has been told that age 20 is the peak for females. She did not understand how a woman and man's ages of peak can be so different, and the therapist reveals it's really not. Typically, women's physical strength peaks at age 25-26, the therapist says.
It is not explicitly stated, but what I took away from that is that women in Japan are pressured to not let anything, including a successful, meaningful career, stop them from doing what their society believes women are born to do- having babies.
Hiyori flat out states they are fighting discrimination, and they will continue working to make female Sumo wrestling as professionally acceptable as male Sumo Wrestling.
As a daughter of the goddess, so many things in this film speak to me.
Women and men are not identical, and there are things men can do that women cannot, and vice versa. But those differences stop at the genitals. Men cannot carry a baby, and women cannot impregnate somebody, in other words.
We may look, and sound different, but the fact is, women and men are equal in more ways than we differ. At jobs, we can excel at the same things despite our genital differences. A woman can work as hard as a man, and a man can be just as sensitive and nurturing as a woman.
There was a time they told us we were incapable of voting, supporting a family, or otherwise standing on our own two feet. Generations of women have blazed trails so today's women did not have to fight as hard, and so we could have opportunities they only dreamed of.
Trailblazers like Hiyori are physical embodiment's of the Mother Goddess in all her power, splendor, and strength. Unafraid to challenge the status quo in a Nation hellbent on conformity, women like Hiyori show the rest of us how it's done.
To embrace one's own true power, as Hiyori has done, in a world focused on taking it away, is the ultimate expression of the feminine divine, and every woman should watch this, and share it with every girl.
Magically, it is an expression of the power of the individual will versus the collective will of society to crush the human spirit. Who am I? Am I somebody who society says does not exist, and is unwelcome? Women like Hiyori don't let that stop them, and nobody else should either.
I see the raw power of the divine feminine in Hiyori and other women involved in Sumo Wrestling.
Another lesson is the power of women supporting one another. When Hiyori was a child, her father did not want her to do Sumo, as he thought it is unfitting for a girl. A powerful woman herself, Hiyori's mom made sure nothing took Sumo from her daughter. Never underestimate the power of women building each other up. Goddess to goddess, we thrive by empowering one another.
Moving, inspiring, and intimate, this film is a MUST see for all who practice magic, or venerate the divine feminine.
Happy viewing!
Blessed Be!
**
About the Author: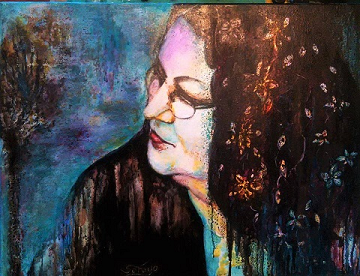 Saoirse is a practicing witch, and initiated Wiccan of an Eclectic Tradition.
A recovered Catholic, she was raised to believe in heaven and hell, that there is only one god, and only one way to believe. As she approached her late 20's, little things started to show her this was all wrong. She was most inspired by the saying "God is too big to fit into one religion" and after a heated exchange with the then associate pastor of the last Xtian church she attended, she finally realized she was in no way Xtian, and decided to move on to see where she could find her spiritual home.
Her homecoming to her Path was after many years of being called to The Old Ways and the Goddess, and happened in Phoenix, Arizona. She really did rise from her own ashes!
Upon returning to Ohio, she thought Chaos Magic was the answer, and soon discovered it was actually Wicca. She was blessed with a marvelous mentor, Lord Shadow, and started a Magical Discussion Group at local Metaphysical Shop Fly By Night. The group was later dubbed A Gathering of Paths. For a few years, this group met, discussed, did rituals, fellowship, and volunteering together, and even marched as a Pagan group with members of other groups at the local gay Pride Parade for eight years.
All the while, she continued studying with her mentor, and is still studying for Third Degree, making it to Second Degree thus far.
She is a gifted tarot reader, spellworker, teacher, and was even a resident Witch at a Westerville place dubbed The Parlor for a time.
Aside from her magical practice, she is a crocheter, beader, painter, and a good cook. She has been a clown and children's entertainer, a Nursing Home Activities Professional, a Cavern Tour Guide, a Retail Cashier, and a reader in local shops. Her college degree is a BA in English Writing. She tried her hand at both singing and playing bagpipes, and…well…let's just say her gifts lie elsewhere! She loves gardening, reading, antiques, time with friends and soul kin, and lots and lots of glorious color bedecking her small home!
On the encouragement of a loved one several years back, she searched for a publication to write for, and is right at home at PaganPagesOrg.
She is currently residing in Central Ohio with her husband, and furbabies.
Saoirse can be contacted at [email protected].