Getting Spacey with Tarot – Interview with Laura Loup
"It's a fairly interesting experience, pulling your own cards," said Laura Loup, illustrator of the "Tarot in Space" deck. Calling herself "a professional humorologist," she said in a recent interview at her Savannah shop, Cosmic Corner, "The whole idea was for it to be a fun deck, something that was lighthearted, still hard-hitting. There's a Tower card, there's a Death card, but they have a literal and a metaphorical silver lining."
She employs humor when navigating her own life's ups and downs and created a tool to allow others to do the same, making that silver lining – in the form of shiny silver holographic edges – important to her.
The cards tell the story of May, who begins her journey as The Fool. She's wearing roller skates and carrying a backpack when she is abducted. The Major Arcana depicts her exploring the universe beyond Earth. Along the way, she falls in with Xan, The Hanged Man, and assumes control of the rocket ship, Audacity, his Chariot. 
May is the main character, appearing in 38 cards, and one of only two humans in the deck. Other characters are a collection of aliens, androids and unearthly beings.
This Spacepunk deck "is perfect for those of us who feel a little alien," Loup said, adding, "The deck takes on a whole new, richer meaning when you immerse yourself in the story."
Based on the 78-card Rider-Waite-Smith deck, "Tarot in Space" uses "comets for cups because they are made of frozen water. Lasers are swords. Planets are pentacles and rockets are wands. Instead of knights and pages, there are lieutenants and ensigns – a salute to Star Trek. Each suit has a designated color pallet that helps link it to its elemental roots and makes card memorization and interpretation much quicker.
The Star card is a self-portrait. The Moon card is in memory of the brave Space Dog, Laika, the first dog sent into space from Russia. She'd been a street dog that was rescued and pampered in the few months before her final one-way journey. The card's dream-like scene also shows an alien wolf floating in space.
The deck was inspired by Loup's love of retro-futurism: si-fi from the '60s and '70s (think "The Jetsons" mixed with a dash of She-Ra and classic comics). The Savannah College of Art and Design graduate worked 10-20 hours a week over the course of two years to complete the deck. Then she self-published it in May 2019 using funds from a Kickstarter campaign where seventy-nine backers pledged $4,116, preordering the deck and bringing the project to life.
"I remember what I was doing when I was drawing this card," she said, holding up the Hierophant. "Where I was. The house I was in. Who I was hanging out with. I remember everything about drawing that card. I was sitting in front of a window when I drew it.
"These cards, because they're so connected to the story line I've written, have a lot of messages in them just for me."
She shuffles her deck daily and if a card jumps out, she reads it.
"If a single card falls out or flips over while shuffling it's a Super Magic Mega Ultra Power Card (aka a 'Jumper') and you should set it aside to read," she states in the 36-page digital guidebook accompanying the deck.
Along with upright and inverted descriptions of each card, the guide also contains a collection of her favorite spreads, including an original eight-card love spread for anyone in a relationship or who wants to be.
"I designed it myself; I'm so proud of it. It's a heart shape and half of it is your end of the relationship and half is their end and the middle is how you come together," Loup said.
She began reading tarot in 2014.
"The deck I learned on was the 'Dame Darcy's Mermaid Tarot,' which is very heavily based on Ryder-Waite Smith. I learned from Dame Darcey. She's an illustrator, musician and practicing witch; she taught me. I was selling her deck for her. I learned how she did it and I'm really grateful to her for that. From that one I moved on to the 'Halloween Tarot' which is a super cute deck. It's so different. It's also based on Ryder-Waite but its also really lighthearted, fun, colorful. I wanted something like that that wasn't Halloween-themed. I decided, 'I'm also an artist, I might as well make my own,'" Loup said.
"The deck was based on 'The Audacity,' the novelization I wrote that follows most of these characters. I wrote the book and then I published the deck and then I rewrote the book several times before I published it."
Her husband Zack Loup, who was minding the retail space during the interview, illustrated the "Divine Canine Tarot."
"He is neo-pagan. I'm Buddhist. I was just pagan for a while. I was exploring for a while. I love all religions. I think all religions are fascinating. I couldn't possible choose one. So I'm going to teach people about religion, help people learn what path is best for them and what can help them. And then for myself, I'll be Buddhist. That's my philosophy. That's how I live my life."
The shop has been a business for four years, and at its location on Bolton Street near Forsyth Park for the last three, offering crystals, candles, tarot decks, books, oils, teas, incense, jewelry and more to create your sacred space. In February it will move to a new location, about 10 minutes down the street, expanding from 100 to 1,000 square feet of retail space in the process. A soft opening is planned for February 11. The grand opening will be March 21.
Asked what she'd like readers to know, Loup said, "I think it's important to not take stuff so seriously. If I had one thing I could share with the community out there it's you can enjoy life and you can be happy and you can still be spiritual. You don't have to take everything super, super seriously. Most gods, most deities are loving. They're caring. They understand. They're not going to be mad at you if you miss a full moon. They're not going to be mad at you if you use your sage the wrong way. There's no wrong way. And I think that's what I'd like to share, just that message of don't worry so much about it, just follow your heart, follow your instincts and do everything with the right intent, that's what matters."
Asked if she'd like to illustrate another tarot deck, she said, "I have a couple ideas, but I don't have a lot of time to do art anymore. So I've been focusing more on the books." Then she whispered, "I probably will," adding, "I'm not ruling it out."
Buy the deck at cosmiccornersavannah.com
Contact Laura Loup at
Learn more at LauraLoup.com
***
About the Author:
Lynn Woike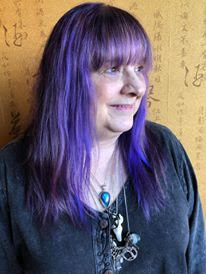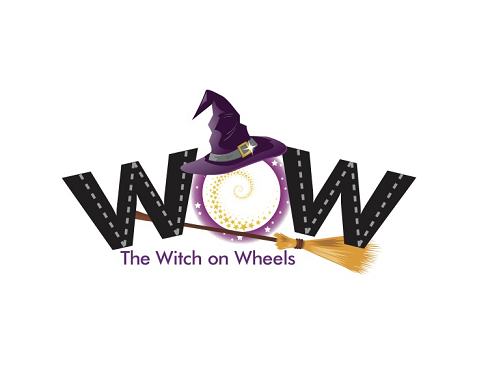 All my life I have known magic was real. As a child, I played with the fae, established relationships with trees and "just knew things." In my maiden years I discovered witchcraft and dabbled in the black-candles-and-cemeteries-at-midnight-on-a-fullmoon magick just enough to realize I did not understand its power. I went on to explore many practices including Zen, astrology, color therapy, native traditions, tarot, herbs, candle magic, gems, and, as I moved into my mother years, Buddhism, the Kabbalah and Reiki. The first man I dated after my divorce was a witch who reintroduced me to the Craft, this time by way of the Goddess. For 11 years I was in a coven, but with retirement, I have returned to an eclectic solitary practice. When accepting the mantle of crone, I pledged to serve and teach. This is what I do from my skoolie – a 30-year-old school bus converted into a tiny house on wheels that I am driving around the country, following 72-degree weather, emerging myself into nature, and sharing magic with those I meet. Find me at thewitchonwheels.com, Facebook and Instagram.