Review of Penelope
Bright Blessings, film lovers!
This review is of a film that I was reeled in to watching by a friend who absolutely LOVES the performance art of James McAvoy.
I would never have watched it otherwise, but I'm so glad I did!
It's the 2006 film Penelope starring Christina Ricci, Catherine O'Hara, Peter Dinklage, and Richard E. Grant as well as the previously mentioned McAvoy.
Click the link below to watch the delightful trailer.
This film begins with a curse! A witch curses the Wilhern family, who are responsible for the death of her daughter. She decrees that their next daughter will be born with the face of a pig, and the spell can only be broken once somebody who is " a blue blood" marries her!
Fast forward FIVE generations, and this family has been lucky enough to evade the curse by somehow managing to have only boys. Enter the very spunky, and very smart Penelope- pig nose and all- but otherwise, a normal, healthy baby girl! Her overly protective mother goes to great lengths to hide Penelope from the world, but hires a matchmaker to help find Penelope a husband. That mother is hellbent on breaking the curse!
Lots of perspective suitors line up, as the Wilherns are well to do, but once they see Penelope's face, they run like mad! Until a poor man with nothing to lose, who isn't afraid of anything shows up, that is, my friend's favorite, of course, McAvoy!
I won't spoil all the surprises for you, but I WILL say Penelope finds a way to break the curse all on her own, and everybody- including the witch- lives happily ever after!!!!!
On the surface, this film is an entertaining romantic comedy, and side splittingly hilarious. But truthfully, it's all about the magic of women, our Earthly Goddesses!
I was most struck by the fact this very modern fairytale contained a twist we rarely see- the damsel in distress is actually doing just fine, and does not need anybody to save her. In a world where we are taught salvationism, and to weep for a savior- most especially us females- and a world that tells us we are NOTHING without the love and devotion of a man? This film is an absolute triumph and a testimony of the power of women and our ability to control our own destinies.
It's also a glowing tribute to mothers and their great love. Both the witch, and Penelope's mother devote their entire being selflessly to the well-being of their daughters. In Penelope's mother's case, she may be misguided, but her heart was in the right place all along, and in the end, she understands her mistakes, lives up to them, and cheers Penelope on.
As for the witch, her love and grieving for her lost daughter makes her immortal, and her number one goal becomes ensuring there is justice. She does get justice, but she's still fair, and once justice is served, the witch moves on in a surprising way viewers would never have expected.
If you haven't seen this already, run right out and grab it. I'm not sorry I saw this magical celebration of the divine feminine through the deeds of women on earth, and you won't be either!
Happy Viewing, and Blessed Be!
***
About the Author: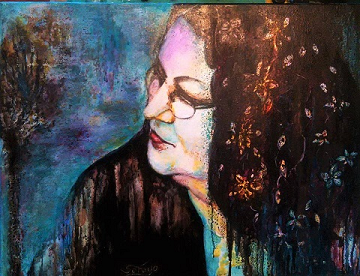 Saoirse is a practicing witch, and initiated Wiccan of an Eclectic Tradition.
A recovered Catholic, she was raised to believe in heaven and hell, that there is only one god, and only one way to believe. As she approached her late 20's, little things started to show her this was all wrong. She was most inspired by the saying "God is too big to fit into one religion" and after a heated exchange with the then associate pastor of the last Xtian church she attended, she finally realized she was in no way Xtian, and decided to move on to see where she could find her spiritual home.
Her homecoming to her Path was after many years of being called to The Old Ways and the Goddess, and happened in Phoenix, Arizona. She really did rise from her own ashes!
Upon returning to Ohio, she thought Chaos Magic was the answer, and soon discovered it was actually Wicca. She was blessed with a marvelous mentor, Lord Shadow, and started a Magical Discussion Group at local Metaphysical Shop Fly By Night. The group was later dubbed A Gathering of Paths. For a few years, this group met, discussed, did rituals, fellowship, and volunteering together, and even marched as a Pagan group with members of other groups at the local gay Pride Parade for eight years.
All the while, she continued studying with her mentor, and is still studying for Third Degree, making it to Second Degree thus far.
She is a gifted tarot reader, spellworker, teacher, and was even a resident Witch at a Westerville place dubbed The Parlor for a time.
Aside from her magical practice, she is a crocheter, beader, painter, and a good cook. She has been a clown and children's entertainer, a Nursing Home Activities Professional, a Cavern Tour Guide, a Retail Cashier, and a reader in local shops. Her college degree is a BA in English Writing. She tried her hand at both singing and playing bagpipes, and…well…let's just say her gifts lie elsewhere! She loves gardening, reading, antiques, time with friends and soul kin, and lots and lots of glorious color bedecking her small home!
On the encouragement of a loved one several years back, she searched for a publication to write for, and is right at home at PaganPagesOrg.
She is currently residing in Central Ohio with her husband, and furbabies.
Saoirse can be contacted at [email protected].