Lenormand Decks I Would Love to Own
You know how it is – after getting your first Tarot deck – usually a Rider-Waite or some deck based on the Rider-Waite symbolism – you learn enough of the symbolism and become an adept-enough reader to want to stretch out – get a different deck and see how well you can read those cards. I remember that the second deck of Tarot cards I got for myself was the Motherpeace deck and that was quite a change from the traditional Rider-Waite cards I had been reading! After that, I just wanted to collect all the decks I could. More than that, I wanted to create my own deck.
It's the same with Lenormand cards. I have four decks now – but there are so many beautiful decks on the market – and so many of these I would love to add to my collection! And I would use them! Believe me, I would!
One of the decks I would love to own is "Pixie's Astounding Lenormand". It borrows from the artwork of Pamela Colman-Smith, who created the famous artwork for the Rider-Waite Tarot deck. Notice the similarities:
What I like about these cards is how the imagery of the original Rider-Waite cards has been reformed to make the symbolism of the Lenormand come alive. I would love to own this deck! Especially to use along with the Rider-Waite deck in readings.
Another deck I would love to own is the Chelsea Lenormand. Done in the style of the Roycroft Arts and Crafts movement, this deck has a modernist style that is simply gorgeous.
Check out these lovely cards:
They almost have the look of stained-glass windows, don't they? I especially love that mice card!
Another deck I want is the Blue Bird Lenormand. These are really lush and beautiful cards. Check them out:
I love the artwork, the large playing card insert and the rhyme on each card, giving you an idea of what the card's meaning may be within the aspects of the reading. This deck of cards would definitely be a wonderful addition to my Lenormand library.
The Story in Color Lenormand is totally different than any other deck I have ever seen, which is why I want it. There are no real pictures; just the name of the card, its number and the playing card it's associated with. Here's a sample of some of the cards:
These cards are as different as they come! But beautiful, aren't they? I would love to see the entire deck! And to attempt a reading with them!
Finally – I would absolutely love to own the Dreaming Way Lenormand. Developed to go with the Dreaming Way Tarot – which I also want to acquire – these cards have a fairy-tale look to them that was instantly appealing to me. Here are a few of them:
As you can see, these are beautifully drawn cards, simple but still filled with the iconic Lenormand symbolism that speaks so clearly to so many of us. It would be a joy to work with these cards – especially if I had the Dreaming Way Tarot for joint Tarot-Lenormand card readings!
I must admit that these four decks are but a few of the many Lenormand oracle decks that I would
love to own. Whether or not I actually ever hold one of these in my hands or – like so many of the Tarot decks I long to own – I only get to add to my collection on Pinterest! – remains to be seen. Meanwhile, I will continue reading with the perfectly good decks that I already own.
Brightest Blessings!
*All pictures are gathered from Pinterest.
***
About the Author: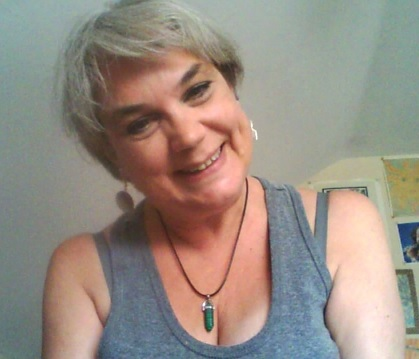 Polly MacDavid lives in Buffalo, New York at the moment but that could easily change, since she is a gypsy at heart. Like a gypsy, she is attracted to the divinatory arts, as well as camp fires and dancing barefoot. She has three cats who all help her with her magic.
Her philosophy about religion and magic is that it must be thoroughly based in science and logic. She is Dianic Wiccan but she gets along with a few of the masculine deities. She loves to cook and she is a Bills fan.
She blogs at silverapplequeen.wordpress.com. She writes about general life, politics and poetry. She is writing a novel about sex, drugs and recovery.