Peeking in the Shadows: Crafting a Book of Shadows and Light
(Photo by Ben White on Unsplash)
Starting Your Book of Shadows: Part Two
The Dedication
You've found your "perfect" container to house your Book of Shadows. Now what? First let me clarify perfect "CONTAINER". Although the emphasis feels as though you should be using a physical journal, many keep their Book of Shadows entirely in electronic format. To the purist, this would be a no-no. Quite frankly, I am of the opinion that the important focus is on codifying what you learn and develop-not so much what form it is kept in. So, with that in mind, if your perfect container is an ipad, your phone or other tech device, the same considerations and energy will be placed in crafting your personal BOS. Now, that we have that out of the way, back to the "now what?".
Dedicate Your Book of Shadows:
Whenever we set aside the time to give something/anything our full attention that thing immediately becomes more relevant and important. After all, time is a valuable commodity in our fast paced world. In the spiritual sense we could also say that this action generates the feelings of sacredness around that thing (person/scenario, etc..). We learn to honor the sacred in all things and this is the beginnings of what that looks like. So, if this BOS is to hold our deepest most revelations and learning, it should be dedicated as sacred space.
There are many ways to dedicate a magickal tool, and yes a BOS is part of this category. Formal ritual is one way, but a simple act filled with intention is just as powerful. Here is a suggestion of what I have used in the past and it has served me quite well:
Create an altar of sorts. This can be a favorite swatch of cloth on any surface, a clean wooden surface, or if outdoors, the top of a tree stump, the grass, a rock surface, etc.. Whatever truly calls to you and the work you will be entering into your BOS;

Prepare your incense and charged water as dedication tools embodying the alchemical elements. The incense should be stick form for ease of passing it over your BOS. This represents the Fire/Air affinities. Charge your water, preferably purified or spring water and add a pinch of salt. I like Kosher salt since it is chunkier and feels less processed. This represents the Water/Earth affinities;

Place your journal (or tech device) on your altar. Stand for a moment and allow yourself to connect with your surroundings and the intention of what you are here to do;

Take a few deep breaths and when you are ready, speak words of intention and directive to all those seen and unseen who will guide you in this BOS and its work. Keep in mind that if you have Deities or other that you regularly work with, invite them to be present in empowering your work and witnessing this dedication. IF not, no worries. Make your statement generic in invitation, as often as you are working with your BOS, guides will present themselves to you;

Take up the incense and pass the smoke over and around your BOS. Be careful not to singe it. You may blow the smoke over it as well and make a declaration such as (or anything you feel string affinity to that speaks to your connection to Air/Fire):
..By the powers of Air and Fire I dedicate this BOS to hold the inspirations of my mind and the creations bourn of my will to action…
Take up the salt water and sprinkle droplets over the BOS, taking care not to over soak and make declaration such as (or anything you feel string affinity to that speaks to your connection to Water/Earth):
..By the powers of Water and Earth I dedicate this BOS to open the key to my heart and the power of manifestation on all of the planes…
Now, take your hands and pass them through the Incense and make declaration such as (or anything you wish):
By the powers of Air and Fire I dedicate these hands as instruments of my working. May the words I utter be clear of intent and filled with the passion for my work. May that which is written in this BOS serve to inspire and enlighten and stir me to the Highest Good for myself and all others.
Take your hands and submerge them in the charged salt water and make declaration such as (or anything you wish):
By the powers of Water and Earth I dedicate these hands as instruments of my working. May
all that is created of physical form feed my Soul's work. May all that is born of emotion's compassion bless all I touch. May that which is written in this BOS serve to open my intuitive nature to be the Highest expression of all of my selves in all of the worlds…. So Mote It Be!
Take a deep breath in and in your BOS, write on the first page copy of the dedication ritual you enacted- the words you spoke and the date of dedication that began this Great Work.
And, it is done!
Next Month:
Starting Your Book of Shadows: Part Three
Some Docs To Get You Going And Some Time In Magickal Contemplation
***
About the Author: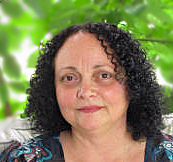 Robin Fennelly is a Third Degree Initiate within The Assembly of the Sacred Wheel Tradition and serves as High Priestess of Coven of the Mystic Path, the 12th Coven within the Assembly of the Sacred Wheel Tradition. She teaches and facilitates classes for the Pagan Experience Study Group that serves as foundation for membership within Coven of the Mystic Path.  
Her spiritual journey is strongly rooted in both Eastern philosophy and the Western Magickal systems from which she has formed a core foundation that is diverse in knowledge and rich in spiritual practice.  A life-long learner, her practice has evolved from the classical and philosophical teachings of books, practical experience and enrichment of this knowledge base by attending workshops of various spiritual traditions presented by master teachers.
Robin formally came to the Wiccan path in 1994. Following practice as a solitary for 2 years, she dedicated to Oak and Willow Coven of The Assembly of the Sacred Wheel Tradition in November of 1996. She received her 1st, 2nd and finally 3rd degrees within the Assembly Tradition and has served as High Priestess of Oak and Willow since Samhain of 2001.

As a teacher of esoteric and magickal studies she has used Energetic Anatomy, Tarot, Astrology, Hermetic Qabala, Eastern Philosophy, and Numerology as the foundations of her diverse selection of workshops and writings for more than 25 years. Exploration of varied energetic protocol has been the focus of her work for some time now and the information gained through direct experience informs all of her magickal and spiritual work.
Robin's writings have been featured online, and in print Internationally.  She has authored several books incorporating her unique style of writing making use of poetry, prose and pathworking to enhance the concepts presented.  She has taught extensively throughout the Pagan community, including Sacred Space Conference, Spring Magick, Between the Worlds Interfaith Conference and Free Spirit Gathering Festival this Summer. Her most recent project is hosting an online blogging community entitled The Pagan Experience.
Robin is the owner of Holistic Embrace providing services for mind, body and spirit such as Tarot readings, Astrology reports, Spiritual Guidance and other related offerings.  She lives in Eastern Pennsylvania and her life is blessed by a 40+- year marriage, five children and the opportunity to work in the field of public education.
Robin's Books
The Inner Chamber, Vol. 1 It's Written in the Stars-Astrology
The Inner Chamber, Vol. 2 Poetry of the Spheres-Qabalah
The Inner Chamber, Vol. 3 Awakening the Paths-Qabalah
The Light of SELF: Consciousness, Spiritual Practice and Learning to Breathe
Magickal Verse: A Collection of Poetry and Prose
A Year of Gaia: The Eternal Cord
The Elemental Year: Aligning the Elements of SELF
Temple of the Sun and Moon: Luminous Devotions
Sleeping with the Goddess: Nights of Devotion
A Weekly Reflection: Musings for the Year
The Magickal Pen: A Collection of Esoteric Writings
The Enchanted Gate: Musings on the Magick of the Natural World
For more info: http://www.robinfennelly.com/books.html
Robin's Website: www.robinfennelly.com
Coven of the Mystic Path, ASW: www.covenofthemysticpath.org