Book Review – Tarot for the Fiction Writer: How 78 Cards Can Take You From Idea to Publication by Paula Chaffee Scardamalia
Book Review
Tarot for the Fiction Writer
How 78 Cards Can Take You From Idea to Publication
by Paula Chaffee Scardamalia
160 Pages
Tarot for the Fiction Writer: How 78 Cards Can Take You From Idea to Publication, by Paula Chaffee Scardamalia, published in 2019 by Red Feather, an imprint of Schiffer Publishing, Ltd., 4880 Lower Valley Road, Atglen, Pennsylvania 19310. This is a 6 1/4 inch by 9 1/4 inch hardcover book with a matte finish color front containing the title of the book and showing The Hanged Man, with a description of the book and a brief author bio on the back cover. There are 160 pages with an easily readable black typeface (with color print at chapter headings and section titles) printed on a nicely substantial off-white paper. This hardcover book also comes with an attached ribbon bookmark; nice bonus!
The book begins with a Table of Contents decorated with color card images from different Tarot decks, followed by an acknowledgement page (mentioning among others one of my Tarot-favorites, Ciro Marchetti), an Introduction that dispels some myths about the Tarot, and finally a page called "Why Use the Tarot and Not Any Other Oracle Deck?" All of these sections set the stage for the journey through the Tarot as a story-telling tool. Part I begins with some foundational information about the structure of the Tarot, instructions for choosing a deck, and a brief explanation of a spread. Then we begin the fun!
I love the way Scardamalia addresses the individual cards! Each Major Arcana and Court Card is portrayed as a character in a story, with information about each card presented in a way that helps the reader to develop the character's personality, strengths and weaknesses. Each Major has a section with questions from the character to the reader, and questions from the reader to the character, a great tool for discovering depth and texture in your personal understanding of the cards.
The section on the Tarot Court offers general information about each rank along with a color card image and specific information about each card, all in keeping with character development within a writing environment. The last few chapters of the book in Part IV briefly address the Minor Arcana and present more information about spreads, using the metaphors of props, location and scenery.
The book finishes with some resources: books on writing, software for writing, websites for fiction writers, writing organizations, books on Tarot, Tarot websites, and a list of the author's favorite decks. Last is a Quick Reference Guide with card interpretations. The Major Arcana card interpretations include a general interpretation as well as one specifically for the writer, and the Minor Arcana card interpretations include a general interpretation as well as a possible character description.
Tarot for the Fiction Writer is a valuable tool for any Tarot enthusiast. This is a beautiful book, constructed with everything you would expect from a high-end book from the attached ribbon bookmark to the lined pages for notes at the end of each Part, filled with valuable information about the Tarot presented within a unique framework. The entire book is full of color card images; each card description offers a color image of the card from one of the author's favorite decks.
One warning: this book is mostly about the Major Arcana and the Court Cards. There are occasional Minor Arcana card images and brief interpretations of the cards, but there is no in-depth study of the Minor Arcana. If you are looking for that kind of information, you will need to go elsewhere, but definitely immediately return to Tarot for the Fiction Writer once you understand the workings of the Minor Arcana. The information in this book is valuable to anyone with a Tarot fascination.
I have always felt that the best way to get to know a particular Tarot card (and to remember what I have learned so I can use it in a reading) is to treat the card like a person. Tarot for the Fiction Writer does exactly this, in brilliant fashion. You don't have to be an aspiring writer or a published author in order to benefit from connecting to the stories told by the cards of the Tarot. However, the idea of incorporating the Tarot into the processes of character and plot development is a good one. If you are new to Tarot, this book will offer an effective framework for learning about your cards. If you are a seasoned reader, Tarot for the Fiction Writer offers you a new and exciting way to look at and understand your cards.
Tarot for the Fiction Writer is one of the books I will have beside me whenever I take out my cards.

Tarot for the Fiction Writer: How 78 Cards Can Take You from Idea to Publication on Amazon
***
About the Author: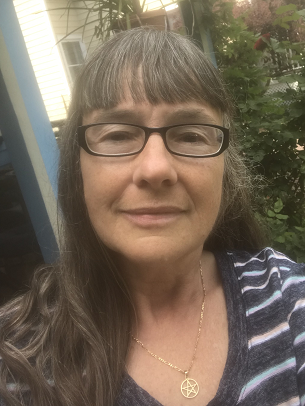 Raushanna is a lifetime resident of New Jersey. As well as a professional Tarot Reader and Teacher, she is a practicing Wiccan (Third Degree, Sacred Mists Coven), a Usui Reiki Master/Teacher, a certified Vedic Thai-Yoga Massage Bodyworker, a 500-hr RYT Yoga Teacher specializing in chair assisted Yoga for movement disorders, and a Middle Eastern dance performer, choreographer and teacher.  Raushanna bought her first Tarot deck in 2005, and was instantly captivated by the images on the cards and the vast, deep and textured messages to be gleaned from their symbols. She loves reading about, writing about, and talking about the Tarot, and anything occult, mystical, or spiritual, as well as anything connected to the human subtle body. She has published a book, "The Emerald Tablet: My 24-Day Journal to Understanding," and is currently working on a book about the Tarot, pathworking and the Tree of Life. Raushanna documents her experiences and her daily card throws in her blog, DancingSparkles.blogspot.com, which has been in existence since 2009. She and her husband, her son and step son, and her numerous friends and large extended family can often be found on the beaches, bike paths and hiking trails of the Cape May, NJ area.
The Emerald Tablet: My 24-Day Journal to Understanding on Amazon