Book Review – Water Magic: Elements of Witchcraft by Lilith Dorsey
Book Review
Water Magic
Elements of Witchcraft
by Lilith Dorsey
Llewellyn
288 Pages
… Water is an element representative of your emotions, your hopes and your true vision. It occupies the space between inspiration and transformation like no other element does. One can use his energy to go with the flow and seek your own level of divine destiny…
Water Magic: Elements of Witchcraft by Lilith Dorsey is the first book in a series by Llewellyn publishers dedicated to the alchemical elements. It is separated into Three (3) Parts and begins with the History, Folklore and Myth of alchemical/spiritual water. The remainder of the book flows from the "how to'" of working with water's energies and ends with specific tools of application and ways to engage more deeply in the nature of water.
Part 1: History, Folklore & Myth, "Chapter 1: Water Throughout Time and Culture" takes the reader through early myths and creation stories that have founded the basis of our spiritual and mundane work. We are physical beings composed largely of water and the natural resonance within ourselves and the alchemical nature of water are readily available for deeper connection. We are taken through the cultures of the Sumerians, Muslims, Hindus, Native peoples, Haitians, Asians, Christians and others. These stories and ways in which throughout generations and ages, water has been a stabilizing and fertile force opening us to the deeper nature within.
I especially enjoyed "Chapter 2: Mythological Watery Beasts and Places". These are listed in alphabetical order with brief introductions to their stories and powers. The usual suspects are represented-Selkies, Mer-People, Sirens, Leviathan and a generous listing of more, many of which I had never encountered before. Very cool! The author explores the Divine beings represented in Water and the Divine (Chapter 3) and includes a very simple journeying experience to open you to the water deities. Sacred Water Sites (Chapter 4) is a journey of sacred geography and introduction to these places of power and healing.
In Part 2: Working with the Element of Water, Ms. Dorsey provides the practical application of water as ally and tool in magickal and spiritual endeavors. These chapters cover water in all of its representations…
… The element of water is vital for all living things. Magically it helps us heal, get in touch with our emotions and the emotions of others, to travel and to transform. By fully exploring and understanding the element of water and all it is associated with, its true power and ultimate potential can be unlocked…..
Chapter 6: Water Herbes and Botanials familiarizes the reader with those plant allies that resonate with water. Subsequent chapters provide the points of connection from the mineral kingdom (Chapter 7: Water Crystals, Stones and Shells) and animal kingdom (Chapter 8: Water Animal Guides).
Part 3: Recipes, Rituals and Spellcraft brings all of the information together. These correspondences are fused into recipes for Magical Waters, Baths, Salts and Washes (Chapter 9) including the keynotes of daily planetary rulings Monday-Sunday to enhance the intention of any work. Chapter 10: Water in Divination and Dreams encourages the intention of alchemical water
… Divination and dreams are inherently watery. They are deep, elusive and mysterious. By calling on the elemental power of water we can gain true insight and understanding…..
And, Chapter 12: Holidays, Rituals and the Water Wheel of the Year offers a lovely ritual as conclusion of that chapter, "Beltane Water Blessing and Renewal Ritual", which gives a decidedly different perspective on a ritual that traditionally is considered to be of Fire.
The Appendix is a snapshot of correspondences that can be readily used to personalize and hone in on what will be of nest support for your intention. The Bibliography has a robust listing of title to dive into and broaden your understanding of water's potency.
Would I Recommend:
Water Magic: Elements of Witchcraft by Lilith Dorsey would be a wonderful reference book to add to your collection. It is largely formatted as a book of correspondences that gives enough information for each category of water's assignation to make application of the energies easily doable. The value of this book lies in not only the cursory read through, but in having in one compilation a read that can be returned to as needed and hone in more dynamically to precisely the watery energy that would bring the biggest enhancement. Hopefully, the remainder of the books in this alchemical series will deliver the same thoroughness of information that flows through Water Magic: Elements of Witchcraft by Lilith Dorsey.
About the Author:
Lilith Dorsey M.A., hails from many different magickal traditions, including Celtic, Afro-Caribbean, and Native American spirituality. Her traditional education focused on Plant Science, Anthropology, and Film at the University of R.I., New York University and the University of London, and her magickal training includes numerous initiations in Santeria, Vodoun, and New Orleans Voodoo. Lilith Dorsey has been doing successful magick for clients since 1991, is editor/publisher of Oshun-African Magickal Quarterly, filmmaker of the experimental documentary Bodies of Water: Voodoo Identity and Tranceformation, choreographer of jazz legend Dr. John's "Night Tripper" Voodoo Show, and author of Voodoo and Afro-Caribbean Paganism, Love Magic, and the new Orishas, Goddesses, and Voodoo Queens. Her work has been featured in the New York Times and the Village Voice.
Water Magic (Elements of Witchcraft (1)) on Amazon
***
About the Author: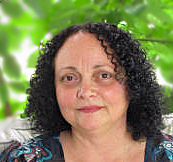 Robin Fennelly is a Third Degree Initiate within The Assembly of the Sacred Wheel Tradition and serves as High Priestess of Coven of the Mystic Path, the 12th Coven within the Assembly of the Sacred Wheel Tradition. She teaches and facilitates classes for the Pagan Experience Study Group that serves as foundation for membership within Coven of the Mystic Path.  
Her spiritual journey is strongly rooted in both Eastern philosophy and the Western Magickal systems from which she has formed a core foundation that is diverse in knowledge and rich in spiritual practice.  A life-long learner, her practice has evolved from the classical and philosophical teachings of books, practical experience and enrichment of this knowledge base by attending workshops of various spiritual traditions presented by master teachers.
Robin formally came to the Wiccan path in 1994. Following practice as a solitary for 2 years, she dedicated to Oak and Willow Coven of The Assembly of the Sacred Wheel Tradition in November of 1996. She received her 1st, 2nd and finally 3rd degrees within the Assembly Tradition and has served as High Priestess of Oak and Willow since Samhain of 2001.

As a teacher of esoteric and magickal studies she has used Energetic Anatomy, Tarot, Astrology, Hermetic Qabala, Eastern Philosophy, and Numerology as the foundations of her diverse selection of workshops and writings for more than 25 years. Exploration of varied energetic protocol has been the focus of her work for some time now and the information gained through direct experience informs all of her magickal and spiritual work.
Robin's writings have been featured online, and in print Internationally.  She has authored several books incorporating her unique style of writing making use of poetry, prose and pathworking to enhance the concepts presented.  She has taught extensively throughout the Pagan community, including Sacred Space Conference, Spring Magick, Between the Worlds Interfaith Conference and Free Spirit Gathering Festival this Summer. Her most recent project is hosting an online blogging community entitled The Pagan Experience.
Robin is the owner of Holistic Embrace providing services for mind, body and spirit such as Tarot readings, Astrology reports, Spiritual Guidance and other related offerings.  She lives in Eastern Pennsylvania and her life is blessed by a 40+- year marriage, five children and the opportunity to work in the field of public education.
Robin's Books
The Inner Chamber, Vol. 1 It's Written in the Stars-Astrology
The Inner Chamber, Vol. 2 Poetry of the Spheres-Qabalah
The Inner Chamber, Vol. 3 Awakening the Paths-Qabalah
The Light of SELF: Consciousness, Spiritual Practice and Learning to Breathe
Magickal Verse: A Collection of Poetry and Prose
A Year of Gaia: The Eternal Cord
The Elemental Year: Aligning the Elements of SELF
Temple of the Sun and Moon: Luminous Devotions
Sleeping with the Goddess: Nights of Devotion
A Weekly Reflection: Musings for the Year
The Magickal Pen: A Collection of Esoteric Writings
The Enchanted Gate: Musings on the Magick of the Natural World
For more info: http://www.robinfennelly.com/books.html
Robin's Website: www.robinfennelly.com
Coven of the Mystic Path, ASW: www.covenofthemysticpath.org