Oracle Deck Review – Dragon Wisdom by Christine Arana Fader, Illustrator Anja Kostka Earthdancer
Oracle Deck Review
Dragon Wisdom
by Christine Arana Fader
Illustrator Anja Kostka
Earthdancer
43 Oracle Cards
112 Pages
From Avalon to Wisdom, the thirty-nine dragons (plus the four sacred chalices) hold magic and timeless wisdom. "Dragon Magic" is a combination of messages and exercises offered by dragons.
"The first time in this life that I looked deep into the eyes of a dragon, I was so moved I could not hold back the tears and sank to my knees at the sight of the unending love of the divine source within," Christine Arana Fader wrote in the introduction. "Dragons are companions, spirit guides, and wise teachers. Their love and loyalty touch me deep within my heart. Dragons endow us with strength and impart a hint of magic. Connect with dragons and the spark of their invincibility will come to you."
A 112-page guidebook offers suggestions on how to use the cards, then goes into detail about each dragon and what it means when you draw that card. The write-up also includes rituals, meditations and activities providing mystical guidelines for connecting the timeless wisdom of these legends to this lifetime.
The artwork is detailed. The cards are sturdy.
As dragons and those who accept their energy are returning, so are old values and ideals, such as courage, loyalty, true friendship, companionship and knowing you are not alone, Christine writes.
Seven pages near the back of the book are a guided journey to find your personal dragon. While I have worked with dragon energy, it was more or less imagined and generic, and not approaching dragons as spiritual beings. Using the guided meditation which is in video form here
I was able to meet a medium-sized dragon with blue and purple scales, and blue eyes that I hope to come to know better.
Those of any age who are fascinated with dragons would enjoy this oracle deck.
About Author Christine Arana Fader
As a child, Christine Arana Fader, grew up in tune with and under the protection of the spirit world. Angels, Merlin, power animals, ascended masters – and especially dragons – have served as teachers on her spiritual journey. Black is her spiritual dragon companion. Since 2010 she has led workshops to acquaint people with the energy of dragons and with Avalon. In the process, she has become known as the "dragon woman." Christine also wrote "The Little Book of Dragons." She lives in Germany.
For more information, visit her website.
Dragon Wisdom: 43-Card Oracle Deck and Book on Amazon
***
About the Author:
Lynn Woike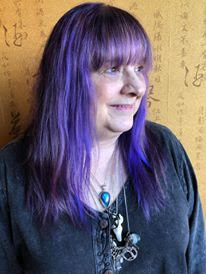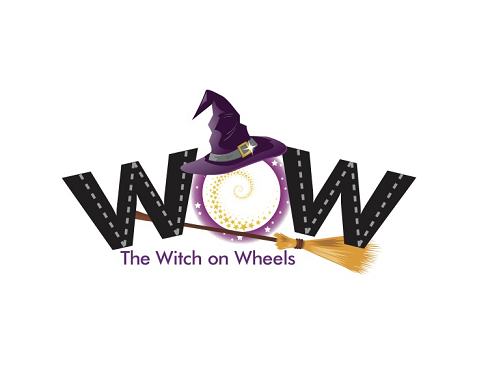 All my life I have known magic was real. As a child, I played with the fae, established relationships with trees and "just knew things." In my maiden years I discovered witchcraft and dabbled in the black-candles-and-cemeteries-at-midnight-on-a-fullmoon magick just enough to realize I did not understand its power. I went on to explore many practices including Zen, astrology, color therapy, native traditions, tarot, herbs, candle magic, gems, and, as I moved into my mother years, Buddhism, the Kabbalah and Reiki. The first man I dated after my divorce was a witch who reintroduced me to the Craft, this time by way of the Goddess. For 11 years I was in a coven, but with retirement, I have returned to an eclectic solitary practice. When accepting the mantle of crone, I pledged to serve and teach. This is what I do from my skoolie – a 30-year-old school bus converted into a tiny house on wheels that I am driving around the country, following 72-degree weather, emerging myself into nature, and sharing magic with those I meet. Find me at thewitchonwheels.com, Facebook and Instagram.