Balancing Meals –

Root Chakra
I have been called a kitchen witch by many and never truly understood what the term meant until it was explained to me, somewhat recently, as a witch who put all of their loving and healing energy into their food, and love to feed others with these caring energies. That just about hit the nail on the head. I love being in my kitchen making tinctures, salves, teas, and potions; I enjoy putting all of my loving and healing energy into them to help others heal. And I LOVE to cook. So of course I love creating good, healing food for those I care about. As it is the colder part of the year I lean more towards soups, as I think most of us do. The warm and fuzzy feelings a good soup provides after a long, cold day is almost unmatched – especially if it's something made with the healing energy of one who cares for you.
Everything in this soup is selected to help you open and cleanse your root chakra and get balanced for the year to come. The ingredients are also ones that can be grown in the winter months in many climates, making them more accessible.
One of the things I like to do for my family is an energy healing, chakra opening, series of meals to help realign after a long year. I choose ingredients that represent a specific chakra and purpose. For spiritual reasons, whenever possible, I try to use only ingredients from my garden or that belonging to someone close to me. This isn't always the case as gardens are often limited.
For this soup, I chose a base to complement the root chakra. I was taught to always start with this chakra, but others start from the crown and work down. After choosing my base, I then select my complementary herbs and veggies. For example, I would use coconut or sweet potato as the base for my sacral chakra soup and choose complimentary ingredients, such as orange pepper or walnuts to accompany both the soup and sacral chakra. My family doesn't always enjoy every ingredient in the soups, but they usually love the overall products and they always end the final meal feeling healthy and happy.  
For my root chakra soup I went with a beet base because of its healing properties, and because it blends well with other winter garden veggies. It doesn't hurt that it makes a beautiful and vibrant–colored soup. Beets are loaded with vitamin C, iron, vitamin B-6, magnesium, and they do wonders for your energy flow and root chakra.
The next few ingredients to our root chakra soup are going to be more root vegetables. Ginger root has healing and restorative energies, which are wonderful for this time of year as we are in our time of new beginnings. Ginger also does wonders for the digestive system and sinuses.
Parsnips, onion, and garlic are also root vegetables that will assist in grounding and balancing your chakra. Onions are said to absorb negative energies which will help you detox your energy as we go through our cleansing dinner rituals. They also help with stability, protection, and ending bad habits.
Garlic is said to help enhance strength and courage. It's also a good antibiotic, making it an excellent addition to this healing meal. Next, simply add some salt and pepper to taste, and serve hot with parsley or feta cheese.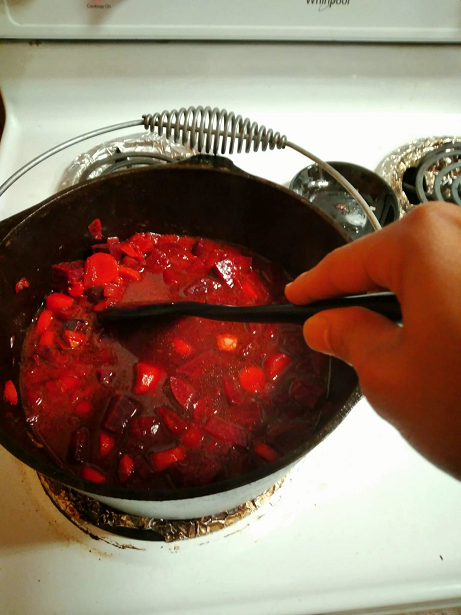 As I cook my soup, I like to infuse my veggies and herbs with appropriate energies so I'll spread some good root chakra stones such as red jasper, hematite, tourmaline, and onyx around the kitchen while I cook. I also like to set a stone circle around the dish as it cools so the foods can be infused with healing energy for my family's root chakras and sometimes say a short chant that comes to me. This is a personal part of the ritual so try and do what feels right. I hope you enjoy this delicious, healing, and balancing recipe and join me next time to open and cleanse the Sacral chakra. May your family feel healthy and renewed from this Root chakra rejuvenation recipe.
Recipe:
2 tablespoons olive or grapeseed oil
1 yellow onion
3 minced garlic cloves
1 tablespoon fresh ginger, peeled and finely chopped
salt and pepper
3 large beets, peeled and diced
1 medium parsnip, peeled and diced (1 cup)
4 cups vegetable broth
Parsley, yogurt, or feta cheese to serve
Heat the olive or grapeseed oil in a large pot on medium to high heat. Add the onion and cook for 3-4 minutes, until softened.

Add the garlic, ginger, salt

,

and pepper

,

and cook an additional 1-2 minutes, until fragrant.

Add the diced beets, diced parsnips and vegetable broth. Turn the heat to high and bring to a boil

, t

hen reduce the heat to low, cover the pot and simmer for 25-30 minutes or until the beets are fork tender.
Use a ladle to transfer the soup to a high-powered blender. Blend for one minute or until creamy.

To serve, pour the soup into a bowl and garnish with yogurt, parsley, or feta cheese.
***
About the Author:
Theron Baker is a kitchen witch who connects most to the earth and enjoys foraging for ingredients and being in nature as well as his kitchen.