Book Review – Live with Intention: Remember and Do What Matters by Mary Anne Radmacher
Book Review
Live with Intention
Remember and Do What Matters
by Mary Anne Radmacher
Publisher: Conari Press
194 Pages
Publication Date: 10/27/2020
Live with Intention: Remember and Do What Matters by Mary Anne Radmacher encapsulates a mindset that many verbalize, but find it much more difficult to put into consistent application. We all have good intentions, but the challenges arise when those intentions require changing behaviors we have allowed ourselves to fall into- aka. habits. Ms. Radmacher has managed to pull together all of the excuses and fold them into a model that can be applied in a variety of ways, all the while retraining our patterning to become more intention-filled beings.
Live with Intention: Remember and Do What Matters is separated into two (2) parts; the first comprised of thirteen (13) chapters and the second a snapshot of practical application of the information explored in part 1. Ms. Radmacher shares her poem that served as the inspiration for this book and was written "decades" ago. Her style of writing is very user friendly and has a tone of conversation, much like that with an old friend. What evolves is an authentic and practical approach to life that goes a long way in keeping the individual healthy, happy, all the while remaining productive in a stream-lined way.
One of my favorite chapters that brought a smile to my face simply in reading the title is Chapter 7: Perspective-Fail with Enthusiasm. We are all familiar in hearing (or saying) "failure is not an option". In theory that is a grandiose undertaking. In practice, we fail all of the time. All of what we categorize as "successes" arose from the fertile composting of what we allowed to fail to give way for success. So, the thought of Failing with enthusiasm gave a whole other layer to this constant….
"Failure is a mindset, not a circumstance. I let my experiences strengthen me. You think I fell on my face, but I'm down here doing pushups.".2.
Another very thought-provoking chapter was Chapter 8: Forgiveness: Choose with No Regrets. In particular the section that addresses "Does Forgiveness Imply Tolerating Bad Behavior? "Very short in its words, but the personal stories that Ms. Radmar shares drive home the need for establishing boundaries, asserting oneself, and then moving on. Other chapter topics include relationships, playfulness, leadership, gratitude and more. All geared specifically with how more intention and life my be drawn into our ordinary, concerns, activities and responsibilities.
Part II: Remember and Do What Matters spoke to me the loudest and as was intended in the formatting of the book, really put into perspective all of the ways in which we expend energy and time where it is not truly in our best interest. This is a twenty-two day "curriculum" that allows the reader to find their voice and cultivate their personal intentions for living a more fully engaged life.
Would I Recommend:
Live with Intention: Remember and Do What Matters by Mary Anne Radmacher is filled with bite-size morsels of clarity and guidance, that if allowed to nourish, would leave the reader changed and living a more authentically intentional life. Self-help books abound and although many are fine treatises on how to become a better person, live a more meaningful life, slow down, do less, become more, etc… many of them lack the simplicity of engaging and being fully cognizant of being intentional in your life and fully present in living that intention. I am looking forward to spending more time with this book and seeing what arises with each new reading.
The Introduction opens with a beautiful quote by the mystic, Rumi and speaks fully to what the ultimate goal of an intention-filled life can become and the gift of that awareness so beautifully expressed in this title…
" If we do everything else, but that one thing, we will be lost. And if we do nothing else but that one thing, we will have lived a glorious life." 2.
Notes:
p. 88

p. 22
About Author Mary Anne Radmacher:
Mary Anne Radmacher is a writer and an artist. She conducts workshops on living a full, creative, balanced life; teaches Internet writing seminars; and works with individual clients. She has been writing since she was a child, and she uses her writing to explore symbols and find meaning. Among her special honors, she counts the respect of her peers and the friendship of children. She is the author of Lean Forward into Your Life and Live Boldly. She lives in the thriving university town of Gainesville, FL, in close proximity to amazing humans and fine dogs. Visit her online at www.maryanneradmacher.net.
Live with Intention: Remember and Do What Matters (Positive Affirmations, New Age Thought, Motivational Quotes) on Amazon
***
About the author: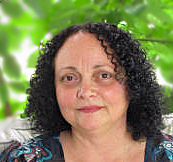 Robin Fennelly is an Elder within The Assembly of the Sacred Wheel Tradition and serves as High Priestess of Coven of the Mystic Path, the 12th Coven within the Assembly of the Sacred Wheel Tradition. She teaches and facilitates classes for the Pagan Experience Study Group that serves as foundation for membership within Coven of the Mystic Path.  
Her spiritual journey is strongly rooted in both Eastern philosophy and the Western Magickal systems from which she has formed a core foundation that is diverse in knowledge and rich in spiritual practice.  A life-long learner, her practice has evolved from the classical and philosophical teachings of books, practical experience and enrichment of this knowledge base by attending workshops of various spiritual traditions presented by master teachers.
Robin formally came to the Wiccan path in 1994. Following a practice as a solitary for 2 years, she dedicated to Oak and Willow Coven of The Assembly of the Sacred Wheel Tradition in November of 1996. She received her 1st, 2nd, 3rd and 4th (Elder) degrees within the Assembly Tradition and has served as High Priestess of two ASW covens since Samhain of 2001 and the Winter Solstice of 2015.
As a teacher of esoteric and magickal studies she uses Energetic Anatomy, Tarot, Astrology, Hermetic Qabala, Eastern Philosophy, and Numerology as the foundations of her diverse selection of workshops and writings for more than 25 years. Exploration of varied energetic protocol has been the focus of her work for some time now and the information gained through direct experience informs all of her magickal and spiritual work.
Robin's writings have been featured online, and in print Internationally.  She has authored several books incorporating her unique style of writing making use of poetry, prose and pathworking to enhance the concepts presented.  She has taught extensively throughout the Pagan community, including Sacred Space Conference, Spring Magick, Between the Worlds Interfaith Conference and Free Spirit Gathering Festival. Her most recent projects include a channel on youtube: A Journey to the Inner Chamber. She also shares audio pathworkings and ritual on her bandcamp site: Teachings on the Path with Robin.
Robin is the owner of Holistic Embrace providing services for mind, body and spirit such as Tarot readings, Astrology reports, Spiritual Guidance and other related offerings.  She lives in Eastern Pennsylvania and her life is blessed by a 40+- year marriage, five children and the opportunity to work in the field of public education.
Robin's Website: www.robinfennelly.com
Coven of the Mystic Path, ASW: www.covenofthemysticpath.org
Her books can be found on Amazon or purchased directly through her website:
For more info: http://www.robinfennelly.com/books.html
The Inner Chamber, Vol. 1 It's Written in the Stars-Astrology
The Inner Chamber, Vol. 2 Poetry of the Spheres-Qabalah
The Inner Chamber, Vol. 3 Awakening the Paths-Qabalah
The Light of SELF: Consciousness, Spiritual Practice and Learning to Breathe
Magickal Verse: A Collection of Poetry and Prose
A Year of Gaia: The Eternal Cord
The Elemental Year: Aligning the Elements of SELF
Temple of the Sun and Moon: Luminous Devotions
Sleeping with the Goddess: Nights of Devotion
A Weekly Reflection: Musings for the Year
The Magickal Pen: A Collection of Esoteric Writings
The Enchanted Gate: Musings on the Magick of the Natural World
The Temple of the Sun: An Astrological Solar Year
Writings in the Shadow: An Exploration of the Shadow Nature