Book Review – The Ultimate Guide to Tarot Spreads by Liz Dean
Book Review
The Ultimate Guide to Tarot Spreads
by Liz Dean
Publisher: Fair Winds Press
192 Pages
Publication Date: 3/01/2016
The Ultimate Guide to Tarot Spreads by Liz Dean, is published by Fair Winds Press, an imprint of Quarto Publishing Group, 100 Cummings Center, Suite 265-D, Beverly, MA 01915, and copyrighted in 2016 by Quarto Publishing Group USA, Inc., with the text copyrighted in 2016 by Liz Dean. The Ultimate Guide to Tarot Spreads is an 8 1/8 inch by 11 1/4 inch book with a substantial color soft cover containing images of Tarot cards on the front, and reviews and a book description on the back. The book consists of 192 pages with black easy-to-read type of a nice size on smooth, substantial paper. It contains full-color card images; each chapter has a different-colored tab, making it easy to quickly find the specific content you need.
The Ultimate Guide has 11 chapters filled with really useful information on the history, construction, modification and interpretation of many, many styles of spreads. Chapter 1 offers suggestions for preparing your space and choosing and connecting with your deck, as well as some basic information about the cards themselves. This chapter also includes some useful information, such as breaking through blocks that are caused by working with cards that are personally difficult or uncomfortable for a reader.
Chapter 2 covers essential reading techniques. What I really like about this chapter is that it offers valuable insights to both the new readers, such as how to turn over the cards, as well as more seasoned readers, covering colors and offering seven possible focuses for reading styles. This chapter begins the work for which this book was created, by offering seven essential spreads, along with detailed instructions for interpreting them.
With a very useful foundation in place, The Ultimate Guide now dives deep into spreads beginning with Chapter 3, which focuses on spreads that offer advice regarding love and romance. Each chapter going forward focuses on a different topic, such as money, home and security; crossroads, crises, decisions and change; and spiritual development, to name a few. Chapter 9 talks about the concept of timing, Chapter 10 approaches spreads through life-changing books such as The Secret, The Power of Now, You Can Heal Your Life, and The Alchemist. Chapter 11 covers the spreads of Etteilla, Papus, the Golden Dawn, and other occultists.
The Appendices contain quick reference card meanings, quick reference symbolism meanings, a correspondence list of the Major Arcana by the Golden Dawn, a further reading list, Acknowledgments, a bio of the author, and an index.
Each chapter has several Tips, as well as information regarding useful correspondences such as crystals, the planets, days of the week, and even possible interpretations based on the direction the card image is facing. We also are given focused keyword lists and cards to look for regarding each chapter's focus, offering possible advice for topics such as the Major Arcana cards, the Minor Arcana cards, the Minor Arcana suits, and the use of a Significator in a spread, all presented in an easy-to-remember style.
The Ultimate Guide to Tarot Spreads is a valuable resource for anyone interested in the Tarot cards and their meanings, and for any reader of any skill level. Besides expanding knowledge regarding the use of spreads, new readers will benefit from the way The Ultimate Guide views the cards and their messages, and seasoned readers will add depth and texture to their own understanding of spreads and their applications.
I am not a big fan of complicated spreads, but The Ultimate Guide to Tarot Spreads has opened my eyes in a big way to their usefulness. While it focuses on the creation and use of spreads, this book also contains so much valuable information regarding the interpretation of the Tarot cards and their images, archetypes and symbols; I will be keeping this book handy as I go forward. Grab a copy of The Ultimate Guide to Tarot Spreads. You won't be sorry.
Liz Dean is a Tarot teacher and professional reader who works with the Rider Waite deck, and is the author of seven divination decks and books, including The Ultimate Guide to Tarot, The Victorian Steampunk Tarot, The Mystery of the Tarot, and the best-selling The Art of Tarot. Liz is also an Angelic Reiki Master Teacher and former coeditor of Kindred Spirit, the UK's leading spiritual magazine. She has been featured in Tarot Masters. Her website, www.lizdean.com contains a bio, a book list, her blog, and more useful information.

The Ultimate Guide to Tarot Spreads: Reveal the Answer to Every Question about Work, Home, Fortune, and Love (The Ultimate Guide to…, 2) on Amazon
***
About the Author: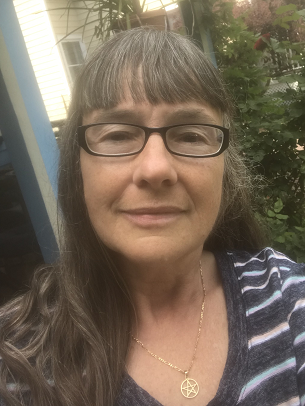 Raushanna is a lifetime resident of New Jersey. As well as a professional Tarot Reader and Teacher, she is a practicing Wiccan (Third Degree, Sacred Mists Coven), a Usui Reiki Master/Teacher, a certified Vedic Thai-Yoga Massage Bodyworker, a 500-hr RYT Yoga Teacher specializing in chair assisted Yoga for movement disorders, and a Middle Eastern dance performer, choreographer and teacher. Raushanna bought her first Tarot deck in 2005, and was instantly captivated by the images on the cards and the vast, deep and textured messages to be gleaned from their symbols. She loves reading about, writing about, and talking about the Tarot, and anything occult, mystical, or spiritual, as well as anything connected to the human subtle body. She has published a book, "The Emerald Tablet: My 24-Day Journal to Understanding," and is currently working on a book about the Tarot, pathworking and the Tree of Life. Raushanna documents her experiences and her daily card throws in her blog, DancingSparkles.blogspot.com, which has been in existence since 2009. She and her husband, her son and step son, and her numerous friends and large extended family can often be found on the beaches, bike paths and hiking trails of the Cape May, NJ area.