Celebrating the Old Ways in New Times
Celebrating the Old Ways in New Times for May 2021
Blessed May 2021!
By now, many will have had Beltane celebrations, but some will hang back this year, continuing to social distance for safety during Covid times. A friend I met recently was asking me if I'd done online meetings for Sabbats, and I said I had not. Locally, the druid grove has kept up with that, and many are enjoying those broadcasts. Xtian groups have done many church services online due to the pandemic, but I wonder who remembers the earlier days of televised worship services.
The Magic of Television
(Photo by Bruna Araujo on Unsplash)
As I was growing up, my mom, who called herself a "homebody" did not like to get up early for church. She was not terribly social, and so evenings in church were rare after I was middle school age. On Sundays' we watched Dr. Robert Schuler's Hour of Power at his Crystal Cathedral in California. It cost us nothing to watch this on TV, and on occasion, mom would buy us a trinket like his keychain with his favorite "They shall mount up with wings like eagles" scriptural quote, and a crystal crucifix pendant for the both of us. (I accidentally broke mine!)
I found out that pastor hosted the tv show from the 1970's until his retirement in 2010. A celebrity minister for years, he prayed with Presidents, and wrote over thirty books, some of which made New York Times Bestsellers lists. After his retirement, he was kicked off the board at his church, and the church filed for bankruptcy. His family decried the treatment of him, and one of his grandsons, Bobby was selected to be the new pastor for the Hour of Power show- but was not allowed to be a voting board member.
While the news of a pastor not being allowed to vote on the board may come as a surprise, I will say I've heard both a Catholic Priest and a Unitarian minister talking about how they are not number one in command. They told me the board and church members call the shots.
Different denominations will give varying levels of say to their clergy, and I will say as a Wiccan, the last say is the decisions of our elders. "I have spoken!" one of our Priestesses says! However, the Wiccan means "the people" and no clergy person ordained does so just for themselves. Not only do they serve those who come to them, but those who come to the Priests and Priestesses of neo-Paganism participate and make things happen. We basically minister to one another, regardless of what titles we have.
The Power of Us
Many covens, groves, kindreds, and other groups that go by none of these names assign roles to each member. Each person has a role that is important to the rest of the group, and everybody is needed and belongs. Like churches have choir leaders, deacons, associate pastors, leaders of outreach, reception staff, and Sunday school teachers, Neo Pagan groups have people who handle finance, those who speak for the group to the community, kids group leaders, and trainees to be clergy. Then there are the jacks and jills of all trades who lend a helping hand regardless of what is needed.
We all need one another, regardless of what our role or title is in our groups. Some groups even have no formal titles, but everybody needs to come together for fellowship. Indeed, one Pagan I know told me the bulk of their celebrations tends to be fellowship, as opposed to simply ritual. That's one reason why being unable to gather with loved ones has been so hard on so many Pagans.
I know it's not the same at all, but online Sabbats are better than nothing, and can help to tide us over until it's safe to gather in person once more. Before I have suggestions for this month's working, let's explore what Beltane is.
Beltane
Mentioned as early as in 908 by a king of Munster named Cormac, Beltane is celebrated in Ireland and Scotland, with it going by various spellings including Beltane and Beltaine. It marks the beginning of Summer, and when animals are brought from Winter holdings out to the Summer grazing grounds. The purpose is to purge animals of any evil or negative spiritual influences they may have lingering from winter, and release them newly blessed to thrive in Summer.
Festivities have varied by time and location and may include blessed fires the animals walk between, the dancing of the Maypole, which now is done to symbolize the union of the earth goddess with the sky god, and cutting and wearing of flowers. While the Maypole has become a most recognizable symbol of the Sabbat, it was not always the very most important part, and sometimes it wasn't even done.
Fires tend to characterize Beltane more than anything else, and those ancient fires have become today's standard for expelling all bad things, and creating all good things. Blessing the animals and also the people was most important, and that is why for some of us, Beltane is so important today. A video of a modern Beltane celebration can be found here:
Note in the comment by the author, the fires were for some reason not allowed. See how modern folk improvise and do what they are able to for the ability to gather together? While fire may have characterized the blessing ceremony for historic Beltane, these people knew they could do the blessing another way, and they absolutely did.
Many don't see a lot of soul kin for a while after Yule, and Beltane often kicks off festival season. For some, it's a form of Pagan Family Reunion, while for others, it's just another Sabbat. For me, it's my top Sabbat, and having skipped last year's Beltane entirely, I never expected to be unable to gather for another year. There is a way to connect even if it's not in person and to bless one another without risking our health.
Like the 2016 Glasotnbury Beltane organizers replaced fire with a different blessing, so many of us will replace blessing one another in person by blessing our loved ones with our absence.
In the 21st Century
Today, much is being done online, and communications with people we cannot be in the room with happens. Years ago, it was via letters, and afterwards, via telephone. When we cannot gather together, we can "reach out and touch someone" and the telephone commercial used to tell us to by using technology. There is more than one way to do this, and yes, I've already started arranging this, myself.
Virtual Beltane Working Suggestions
I know it's not the same as gathering in person, but my plan this year is to spend the Friday, Saturday, and Sunday of the Sabbat talking to people I'd normally invite over. You can go beyond this and do a prayer meeting, or do a full ritual. Here are some ideas.
Set up or attend a meeting through Zoom or some other platform
If you can't find a local online Beltane rite, I'm providing a link for you. Circle Sanctuary has been doing great work for years, and you won't be disappointed! Of course, you can do your own rite for yourself and loved ones, even staying online together to eat your own meals, but if you would like to watch clergy do ritual, I highly recommend this one!
Beltane 2021 – Circle Sanctuary
You can do this live, inviting people you know to watch or you can record something to share. This can be as simple or as elaborate as you want. A short prayer and message will be nice, or a full ritual will do. A short blessing could have you light two candles, one on either side of you, inviting the people who are doing this with you to do the same. Ask the Mother goddess to bless one, and the Father god to bless the other. Then do a prayer like "Mother, Father, be with all of us watching today, and in the future. (if it's a recorded video) We ask that you pull the hurts, the sorrows, the illnesses, and all bad things from us that we have built up since Samhain. Protect us as we emerge from the darkness of Winter, and strengthen us as we come out into your creation to another growing season. Bless the works we do that we may have a fruitful harvest before the year draws us back to darkness once more. So Mote It Be!"
Make a Phone Call or Video Call
This can be done to one person at a time or to just one single individual. I suggest if you have multiple people to call, scheduling an hour per person in advance, and either praying and blessing one another, or just speaking for fellowship. This is what I am doing this year, and I am doing as many video calls as possible. It will be so good to see everybody's beautiful faces and hear their voices.
I'm old enough to remember the days before e-mail, so I certainly remember the days before the miracle of instant messaging. Not everybody will be able to talk or video chat, but can instant message with you. Your beautiful energy will come through, even without the sound of your voice.
While we have to pull back and be careful for a bit longer, we can still reach out to one another for Sabbats, and to bless one another by being present in each other's lives even while not physically together.
May the blessings of Beltane bring us a much-needed resolution to this horrible pandemic. May all survive and thrive despite the times we are enduring, may we be delivered from it very quickly.
Until we are together again,
Blessed Be!
***
About the Author: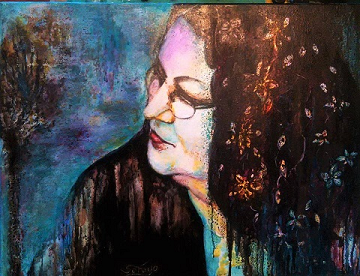 Saoirse is a practicing witch, and initiated Wiccan of an Eclectic Tradition.
A recovered Catholic, she was raised to believe in heaven and hell, that there is only one god, and only one way to believe. As she approached her late 20's, little things started to show her this was all wrong. She was most inspired by the saying "God is too big to fit into one religion" and after a heated exchange with the then associate pastor of the last Xtian church she attended, she finally realized she was in no way Xtian, and decided to move on to see where she could find her spiritual home.
Her homecoming to her Path was after many years of being called to The Old Ways and the Goddess, and happened in Phoenix, Arizona. She really did rise from her own ashes!
Upon returning to Ohio, she thought Chaos Magic was the answer, and soon discovered it was actually Wicca. She was blessed with a marvelous mentor, Lord Shadow, and started a Magical Discussion Group at local Metaphysical Shop Fly By Night. The group was later dubbed A Gathering of Paths. For a few years, this group met, discussed, did rituals, fellowship, and volunteering together, and even marched as a Pagan group with members of other groups at the local gay Pride Parade for eight years.
All the while, she continued studying with her mentor, and is still studying for Third Degree, making it to Second Degree thus far.
She is a gifted tarot reader, spellworker, teacher, and was even a resident Witch at a Westerville place dubbed The Parlor for a time.
Aside from her magical practice, she is a crocheter, beader, painter, and a good cook. She has been a clown and children's entertainer, a Nursing Home Activities Professional, a Cavern Tour Guide, a Retail Cashier, and a reader in local shops. Her college degree is a BA in English Writing. She tried her hand at both singing and playing bagpipes, and…well…let's just say her gifts lie elsewhere! She loves gardening, reading, antiques, time with friends and soul kin, and lots and lots of glorious color bedecking her small home!
On the encouragement of a loved one several years back, she searched for a publication to write for, and is right at home at PaganPagesOrg.
She is currently residing in Central Ohio with her husband, and furbabies.
Saoirse can be contacted at [email protected].