Book Review – The Big Book of Tarot: How to Interpret the Cards and Work with Tarot Spreads for Personal Growth by Joan Bunning
Book Review
The Big Book of Tarot: How to Interpret the Cards and Work with Tarot Spreads for Personal Growth
by Joan Bunning
368 page
The Big Book of Tarot: How to Interpret the Cards and Work with Tarot Spreads for Personal Growth by Joan Bunning published in 2019 by Red Wheel/Weiser, LLC, 65 Parker Street, Suite 7, Newburyport, MA 01950. This is a huge 8½ inch by 10 inch soft cover book with a glossy color illustration on the front cover and book description on the back cover. There are 357 pages with a nice large, easy-to-read typeface on white paper. Bunning has a website that contains lessons for teaching how to read the Tarot, as well as significant descriptions of each of the cards, all cross-referenced and linked. Bunning has also written several other Tarot books, including the Learning the Tarot book that corresponds with the website, as well as books on spreads, reversals, and the Tarot Court. The Big Book of Tarot brings together key information from the other books and from the website, as well as new and expanded materials, all in one book.
The Big Book of Tarot begins with a Preface written by Bunning that gives a brief description of the setup of this book. The Introduction, Part One and Part Two, the first 55 pages of the book, are mostly taken from the lessons and exercises presented on the website, with some lesson materials expanded; all of the lessons are supplemented with black and white card illustrations. Next comes Part Three, the huge section of Card Descriptions, over 200 pages. Each description contains a black and white image of the card, a list of keywords, then a subsection for each keyword containing actions for the upright card and two descriptions for the reversed card (Early Phase and Late Phase). Then comes two or three paragraphs that tell the story of the card, and last, a list of some opposing cards and reinforcing cards. That is a lot of useful information!
Part Four addresses Tarot Spreads in detail, breaking down the elements of a spread, such as the number of cards, placement order, and position meanings, and then continues with descriptions of many different spreads, some broken down into quite a bit of detail. Part Five is the reference section, giving lists, instructions, and keywords. This section also provides the story of the Fool's Journey through the Major Arcana, broken down into 22 paragraphs corresponding to the 22 Majors, and ends with some instructions for doing Tarot readings, as well as a few sample readings.
When I first began doing Tarot readings, I found the Learn Tarot website very valuable. Within that website Bunning offers great keywords and phrases as well as a story for each card. She offers reinforcing cards and opposing cards, which helped me to better understand in depth the possible messages being offered within a particular spread. I own the Learning the Tarot book, Tarot Reversals, and Tarot Court books, and use them often. Needless to say, I was excited to receive this new book to review.
I find the methods Bunning uses to describe cards is useful for those who are just learning the Tarot, and for those who are just starting to read the cards for others. Her lessons are easy to understand and progress logically through the cards and their uses, and the exercises build confidence in interpreting the cards. But this book is not by any means just for beginners. If you are looking to increase ease of telling the story of a spread, or if you want to expand your ability to create effective spreads personalized to an individual seeker, this book is for you. If you struggle with forming a question for a reading, working with reversals, or would like to make use of card pairs, The Big Book of Tarot has pages devoted to explaining these concepts, and more.
If you don't any of the previous books written by Bunning, I highly recommend this one. If you are like me and already own one or more Bunning Tarot books, consider this book as well as it sums up her other work in one neat package. The Big Book of Tarot makes a great reference book to keep by your side as you offer readings, and its large print and easy to understand descriptions make a valuable visual aid to show a seeker.
If you are a beginner, grab this book, now! The lessons and exercises make learning about the Tarot manageable and easy to absorb, building on each other, and encouraging intuitive interpretation rather than the memorization of keywords.
***
About the Author: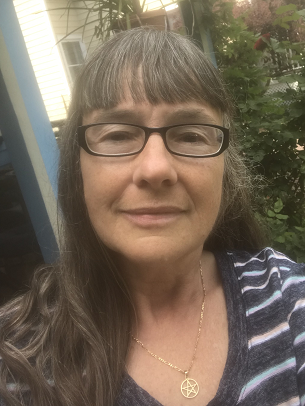 Raushanna is a lifetime resident of New Jersey. As well as a professional Tarot Reader and Teacher, she is a practicing Wiccan (Third Degree, Sacred Mists Coven), a Usui Reiki Master/Teacher, a certified Vedic Thai-Yoga Massage Bodyworker, a 500-hr RYT Yoga Teacher specializing in chair assisted Yoga for movement disorders, and a Middle Eastern dance performer, choreographer and teacher.  Raushanna bought her first Tarot deck in 2005, and was instantly captivated by the images on the cards and the vast, deep and textured messages to be gleaned from their symbols. She loves reading about, writing about, and talking about the Tarot, and anything occult, mystical, or spiritual, as well as anything connected to the human subtle body. She has published a book, "The Emerald Tablet: My 24-Day Journal to Understanding," and is currently working on a book about the Tarot, pathworking and the Tree of Life. Raushanna documents her experiences and her daily card throws in her blog, DancingSparkles.blogspot.com, which has been in existence since 2009. She and her husband, her son and step son, and her numerous friends and large extended family can often be found on the beaches, bike paths and hiking trails of the Cape May, NJ area.