Review
Diana Clark's Gaelic Lenormand Deck & Companion Guide
I received this magical deck several months ago but several issues got in the way of my sitting down and writing a review of it – health issues, family issues – but I have been working with it and using it on a daily basis this entire time and I have to say that I LOVE THIS DECK. Especially now that I'm watching "Outlander" on Netflix – and reading the books by Diana Galbadon – so these cards provide the perfect imagery for where my head is right now. No – you won't see pictures of the exquisite Caitriona Balfe, who plays Claire Randall, or the super-yummy Sam Heughan, who plays Jamie Fraser, pictured in any of these cards – but every time you use these cards in a reading, you will get a feeling of everything Gaelic, whether it's Scots or Irish. Being of Scots-Irish ancestry myself, of course I love that!
As soon as I get any new deck of cards – be they Tarot, Oracle, Lenormand, or just a new set of playing cards – I shuffle through them to get a good feel of the deck. The Gaelic Lenormand is just a bit smaller than a standard poker deck and is constructed of durable card stock, glossy and easy to handle. The back shows a Celtic tree of life growing out of a badge with triple spirals in a black sky of stars – the body of the tree looks like a person reaching up to the heavens in praise! Or in dance! The picture itself is alive with meaning and could be used in mediation itself.
Another thing I do is look for cards that "speak" to me right off the bat. Usually it's the cards that I like the best imagery-wise – I simply like the artwork – or there's something about the card that just grabs me. It's not the meaning of the card – it's just the imagery. Here's the ones I picked my first time looking at The Gaelic Lenormand:
I really love that 29 Woman card. I used to have a skirt just like that! When I was a freshman in high school! That was a long time ago! I also love the birds flying over the castle in the 19 Tower card and how it's two buildings – an older one built of gray stone and a newer, taller one built of sand stone. And I love how Diana Clark has chosen to put thistle on the 2 Clover card in place of Clover – yes, there are four-leaf clovers shown – but by showing the thorny thistle, she adds a meaning of hardiness and strength to a card which traditionally has a connotation of luck and fortune. Brilliant!
Along with the deck, I received the The Gaelic Lenormand Companion Guide, which is a handy guide to using the cards. Like all Tarot/Oracle/Lenormand decks, The Gaelic Lenormand came equipped with a "Little White Book" (LWB) – actually a little white pull-out – but having a companion guide always makes learning easier.
After going through her family history, her spiritual history and how she came to be a spiritual leader, Clark writes a little about Lenormand History, what a Gael is, Celtic Knots and Spirals, which are featured on the cards, much like runes or astrological symbols are featured on many Tarot or Oracle cards. These symbols add another dimension of meaning to each card.
After these introductory pages, Clark gets into the nuts and bolts of the Gaelic Lenormand. As companion guides go, this is definitely one of the best ones I have ever read. She thoroughly describes each card, including "Personality/Physical Attributes" so that each card can be personified, even if it's something like the ring or the mountain – and let's face it, how many times have you laid out cards wanting to know something about a person and you get a bunch of cards that don't seem to have anything to do with people at all? This companion guide really helps with those kinds of problems. It's easy to think of 19 The Tower as a corporate or government building but after reading Clark's description, I could easily visualize half a dozen men that I knew who could be the tower in a reading. Honestly – I had never thought of it that way before. So yeah – I'm so grateful I received this book!
Another totally awesome thing about this companion guide is that unlike just about every other book about the Lenormand I have read, Clark doesn't pair up just one or two or maybe three cards to help you learn how to read the cards – as she goes through the deck, she pairs up every single card with every other card! And there's a wealth of other information tucked away in there, as well. For instance, in the 5 Tree Combinations, she matches the 5 Tree with 17 Stork as:
Natural transitions/processes, cycle of life, life chapters, important life change,
growth/change of our inner nature, major change, the change of the seasons (Clark, 21)
and then she adds:
The Celtic calendar focused on the cyclical change of seasons. The original Celts celebrated four fire festivals, celebrating the transition of the sun throughout the seasons: Samhain (Oct), Imbolc/Candlemas (Feb), Bealtaine/May Day (May), and Lughnasadh/Lammas (Aug). These quarter festivals were often combined with the solstices and equinoxes. These quarter festivals include Yule/Midwinter/Winter Soltice (Dec), Ostara/Spring Equinox (March), Litha/Midsummer/Summer Solstice(June), and Mabon/Autumn Equinox (Sept). (Clark, 21)
The entire book is filled with these little bits of Pagan/Wiccan wisdom, so it is entirely possible to learn much more than just how to read Lenormand cards while studying this companion guide!
In the back of the Companion Guide, Diana Clark has several spreads, one of which is a Grand Tableau. I have to admit that I have been intimidated by the Grand Tableau for a long time and why not? It's a giant spread, using all thirty-six cards in the pack, and a thorough reading can take hours.
(Layout of the Grand Tableau. Cards drawn 09/15/19)
It is beyond the scope of this article to analyze the cards shown above – I just wanted to show you an example of how the entire deck looks when laid out in a Grand Tableau. Aren't the cards beautiful? Like I said way back in the beginning of this article, I LOVE THIS DECK.
I cannot recommend Diana Clark's The Gaelic Lenormand Deck and its Companion Guide enough! Even if you are a beginner with the Lenormand, you will not have any problems with divination with this magical deck.
If you are looking for more information on The Gaelic Lenomand, Diana Clark has a Facebook page dedicated to the Gaelic Lenormand, as well as one for herself. There is also a Gaelic Lenormand presence on Instagram.
References
Clark, Diana. The Gaelic Lenormand: Companion Guide to The Gaelic Lenormand Deck. np.:2019
The Gaelic Lenormand.
*All photographs by Polly MacDavid
***
About the Author: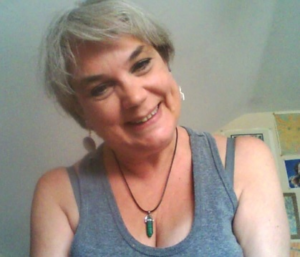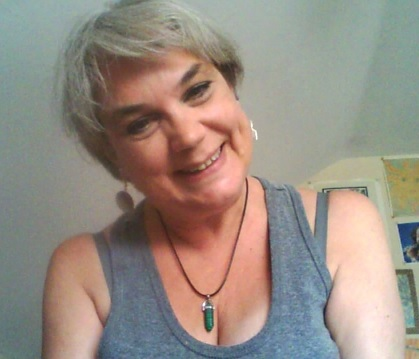 Polly MacDavid lives in Buffalo, New York at the moment but that could easily change, since she is a gypsy at heart. Like a gypsy, she is attracted to the divinatory arts, as well as camp fires and dancing barefoot. She has three cats who all help her with her magic.
Her philosophy about religion and magic is that it must be thoroughly based in science and logic. She is Dianic Wiccan but she gets along with a few of the masculine deities. She loves to cook and she is a Bills fan.
She blogs at silverapplequeen.wordpress.com. She writes about general life, politics and poetry. She is writing a novel about sex, drugs and recovery.