Book Review – 10-Minute Crystal Ball: Easy Tips for Developing Your Inner Wisdom and Psychic Powers by Skye Alexander
Book Review
10-Minute Crystal Ball
Easy Tips for Developing Your Inner Wisdom and Psychic Powers
by Skye Alexander
208 Pages
In one of the previous issues I had the opportunity to review Skye Alexander's book, Magickal Astrology: Use the Power of the Planets to Create an Enchanted Life and thoroughly enjoyed the simplicity, yet complexity provided in a compact book. This month I am reviewing another of Skye's books entitled, 10-Minute Crystal Ball: Easy Tips for Developing Your Inner Wisdom and Psychic Powers. Skye is a practitioner of magick and knows the value of honing your intuitive self as a support to the work of the magick and the mundane.
…."(actually) you do have a "sixth sense". Everybody does. Most of us just don't use it.
This untapped resource-your psychic power- is a natural readily available ability
that can increase your appreciation of the world around you,
enrich your interactions with other people and
help you create the life you want."….1.
Ms. Alexander makes this statement as part of the Introduction and it is one that is filled with empowerment and the opportunity for greater self-awareness. I appreciated the way in which she reminded us that we have many gifts that have largely been ignored or put aside and that one of the greatest intentions for honing your psychic senses is anchored in the practicality of the mundane experience as corporeal beings and less about being the "all powerful Oz".
Recognizing that we live busy lives and the demands of modern life leave little, if any time, for practice of psychic abilities, Ms. Alexander offers a compendium of exercises and experiences that fill the space of a 10-minute coffee break. This makes the material contained all the more accessible and, more importantly doable in breaking the work into bite-size pieces that can slowly be folded into the 24/7-365 that we, practitioners speak of.
As a side note, the visual component of this hardback book was very appealing, and the compact size nestled easily into my hand and fit discreetly in a tote bag. It is illustrated and section separated by pages inscribed in Gold and Black inks on glossy paper and the feel is one of a tactile-visual experience that is rich and luxurious in offering.
10-Minute Crystal Ball is organized into Two Parts introducing seven (7) chapters. Now before we go any further let me clarify that this book is not (only) about Crystal Ball gazing. I suspect that this was a title used as both a nod to the traditional fortune teller using the crystal ball, the depth of insight and visioning one thinks of when crystal gazing; and I found it to be an excellent gateway, so to speak for exploring many of the modalities used in developing the psychic gifts.
Part One dives right into the specific of mental processes, psychic opening, meditation, telepathy, dreams and realms to be entered as the consciousness shifts into a larger expression of interaction with the subtle energies that surround as a means of inquiry and inspiration.
Chapter 3: The Psychic's Toolbox presents a sampling and basic "how to" of the Tarot, Runes, I Ching, Pendulums, Crystal Balls and more. This approach provides the reader with opportunities to "play" and "try out" the various tools of oracular work before settling into one that resonates and piques the interest for deeper study.
The Intuitive arts and divination are broken down to include Astrology, Numerology, Hand Analysis and Graphology. These arts fuse scientific principles with the organic energetic information and require less of an overt visual cue, as in the case of Tarot cards, and more of analysis and processing of information gathered.
Part Two, which comprises more than 2/3rds of the book allows the reader to begin the work of practice and experience. Chapter 4: Intuition, takes us back to some of the staple exercises that many will easily recognize. Sensing objects concealed in hidden boxes, guessing who is on the phone before you answer to name a few. The exercises, and there are tons, are meant to use and stimulate the physical senses as the more etheric and psychic of these opens to another layer of processing beyond simply seeing, hearing, feeling, etc. And, as promised each can be done in a space of limited time and some can even be done discreetly in more public settings. Remember that 10-minute coffee break, I mentioned? How about…
… Look at a cloud formation. As they drift through the sky, clouds constantly
change shape….. gaze up at the sky. Relax your mind and watch the
cloud formations-what images do you see in them?
What impressions do they inspire in you?…2.
Chapter 5: divination is devoted to the art of prediction. These exercises are designed to create a pattern of paying attention and allowing the information to flow in a recognizable way as you tap into the realms of probability and synchronicity. Tools such as runes, pendulums and Tarot cards are folded into some of the exercises, ad others require nothing but your full attention and conscious intention to see beyond the veils of illusion. "Gazing" or being able to attune your visual imagery to be receptive, exercises make use of a flame, a blank TV (no Poltergeist jokes here), a crystal ball and staring at the Moon.
Chapter 6: Other People prompts engagement and observation of those around you. This is also a way for us to remember that we are part of something more than ourselves and that although there may be the solitary work of the psychic practitioner, we are continually impacted by all of the variables that are part of our environment and physical (as well as etheric) space. These exercises are designed for developing Mental Telepathy and learning to Read Other People. The very first of these being a routine occurrence that we engage in and rarely would include as part of our psychic development practice. "Pay attention to your first impression of a person" takes us to the headspace of sensing more than the obvious when meeting someone….
… Your first impressions tell you a lot about someone-this response
is how your intuition communicates information to you…3.
The final Chapter 7: Problem Solving is meant to pull all of the pieces together and actually make use of what you have experienced and learned along the way. Developing these gifts is of no value if they are not put to use and one of the most obvious uses is to seek the answers needed, sense the information received and than apply its wisdom towards making something better. The starting point for this shift in perception is to….
…Ask for Help: Unless you ask for help, you may not receive it. Think of
your inner wisdom as a good friend who is always
willing to lend a hand if you request it…4.
10-Minute Crystal Ball: Easy Tips for Developing Your Inner Wisdom and Psychic Powers is a wonderful addition to the plethora of books on psychic development. Ms. Alexander has once again provided the inquisitive reader with the tools to begin their own course of study and exploration in a compact, concise and interesting book…….. I bet you knew I was going to say that!
Visit the author's web page:
Footnotes:
1. Introduction
2. p. 72
3. p. 129
4. p. 167
***
About the Author: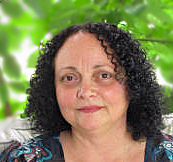 Robin Fennelly is a Third Degree Initiate within The Assembly of the Sacred Wheel Tradition and serves as High Priestess of Coven of the Mystic Path, the 12th Coven within the Assembly of the Sacred Wheel Tradition. She teaches and facilitates classes for the Pagan Experience Study Group that serves as foundation for membership within Coven of the Mystic Path.  
Her spiritual journey is strongly rooted in both Eastern philosophy and the Western Magickal systems from which she has formed a core foundation that is diverse in knowledge and rich in spiritual practice.  A life-long learner, her practice has evolved from the classical and philosophical teachings of books, practical experience and enrichment of this knowledge base by attending workshops of various spiritual traditions presented by master teachers.
Robin formally came to the Wiccan path in 1994. Following practice as a solitary for 2 years, she dedicated to Oak and Willow Coven of The Assembly of the Sacred Wheel Tradition in November of 1996. She received her 1st, 2nd and finally 3rd degrees within the Assembly Tradition and has served as High Priestess of Oak and Willow since Samhain of 2001.
As a teacher of esoteric and magickal studies she has used Energetic Anatomy, Tarot, Astrology, Hermetic Qabala, Eastern Philosophy, and Numerology as the foundations of her diverse selection of workshops and writings for more than 25 years. Exploration of varied energetic protocol has been the focus of her work for some time now and the information gained through direct experience informs all of her magickal and spiritual work.
Robin's writings have been featured online, and in print Internationally.  She has authored several books incorporating her unique style of writing making use of poetry, prose and pathworking to enhance the concepts presented.  She has taught extensively throughout the Pagan community, including Sacred Space Conference, Spring Magick, Between the Worlds Interfaith Conference and Free Spirit Gathering Festival this Summer. Her most recent project is hosting an online blogging community entitled The Pagan Experience.
Robin is the owner of Holistic Embrace providing services for mind, body and spirit such as Tarot readings, Astrology reports, Spiritual Guidance and other related offerings.  She lives in Eastern Pennsylvania and her life is blessed by a 40+- year marriage, five children and the opportunity to work in the field of public education.
Robin's Books
The Inner Chamber, Vol. 1 It's Written in the Stars-Astrology
The Inner Chamber, Vol. 2 Poetry of the Spheres-Qabalah
The Inner Chamber, Vol. 3 Awakening the Paths-Qabalah
The Light of SELF: Consciousness, Spiritual Practice and Learning to Breathe
Magickal Verse: A Collection of Poetry and Prose
A Year of Gaia: The Eternal Cord
The Elemental Year: Aligning the Elements of SELF
Temple of the Sun and Moon: Luminous Devotions
Sleeping with the Goddess: Nights of Devotion
A Weekly Reflection: Musings for the Year
The Magickal Pen: A Collection of Esoteric Writings
The Enchanted Gate: Musings on the Magick of the Natural World
For more info: http://www.robinfennelly.com/books.html
Robin's Website: www.robinfennelly.com
Coven of the Mystic Path, ASW: www.covenofthemysticpath.org