Witchy Fingers Stew aka String Bean Stew
Today we are going to make a delicious stew that I call witchy fingers stew since the string beans look like a witch's fingers. It is a great stew to serve up for Beltane. It has a little kick to it but if your not into spicy you can omit the cayenne pepper. The spice is for the fire of Beltane. The Earthy string beans, onions, celery and meat go so well together.
Beltane is a time to celebrate fertility of the Earth, fire and abundance. It is celebrated on May 1st in the Northern Hemisphere and on November 1st in the Southern Hemisphere.
Ingredients
2 lbs of pork, beef or lamp chunks
1 Tbsp. vegetable oil
1 small onion chopped big
3 celery stalks chopped big
4 cups of frozen or fresh string beans
1 Tbsp. Paprika
1/4 Tsp. cayenne pepper or black pepper
1 1/2 Tsp. salt
6 oz. tomato paste
3 Tbsp. lemon juice
4 cups water + 6 cups of water
Cut your meat into 3″ chunks and rinse till the water runs clear.
Place the meat in a 5 quart dutch oven or any pot with a tight lid.
Fill with 4 cups of water and bring it to a boil then simmer covered for 45 mins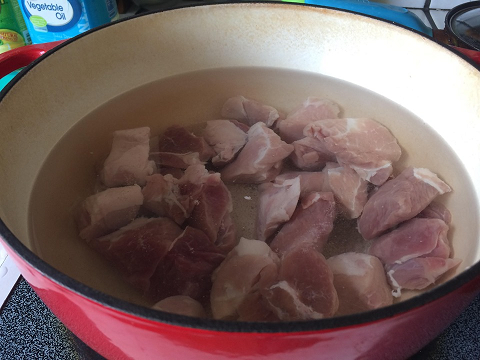 While your meat is cooking gather all your ingredients.
Now chop up your onion, celery and prepare your string beans unless they are frozen you can just leave them on the counter to defrost a bit. Mince your garlic if your using fresh garlic or if your lazy like me I buy it already minced.
After the 45 mins is up empty your meat into a strainer and rinse it and your pot then return the meat back into the pot.
Next add the vegetable oil, onions, celery, garlic, salt, pepper or cayenne pepper and paprika to the pot.
Now stir it up and brown the meat and saute the veggies for about 5-6 minutes.
Then add your tomato paste.
Now add the 6 cups of water & lemon juice.
Make sure you stir it really well so the tomato paste isn't clumped up in a corner somewhere.
Finally add the string beans.
Stir it up and bring it to a boil, cover with lid then simmer for about 55-70 mins till your meat is very tender.
That's it. Doesn't it smell amazing? Now serve in a bowl and eat it like that or with bread.
or you can serve it over basmati rice.
Some Fun Witchy Properties of a Few Ingredients:
String beans are known to attract money, so use them in your money spells.
Garlic is used for protection against evil. It is also used for cleansing, good luck and sexual-lust magick. Also see the pic for onions.
Onions are used to get rid of negativity.
***
About the Author:
Sarah Mascorro AKA Pixie Witch. I'm 45 years young and have been married to my soul mate for 28 plus year. We have 2 boys and live in good ole California. I was actually born in England but came to the states when I was 5.
I'm Pagan/Wiccan and have been practicing over 10 years now. I always knew I was different but didn't figure it out till 2008, that's when I came out of the broom closet. I'm a Witch and I'm proud of it. When I say different I mean I just didn't fit in with what others did or believed in. I'm sure you all totally understand that feeling. Now I know though I'm not different, I'm me and there are so many others like me.
I hold rituals at my house with my circle for each Sabbat and we do a lot of witch crafts together. I love to do all types of crafts not just witchy like I make dream catchers, wood burn, make soaps and bath salts. I love to cross stitch and make latch hook rugs. I have a small page on Facebook that I sell my goodies. You can FIND THEM HERE at Pixiewitchcorner.
I love to cook and bake. My mother was a great cook & I picked up her talent. I love to make my own fun recipes and add some magick to them. I mean cooking is magickal right so why not add a little extra to it. I started a Kitchen Witch Group on Facebook over 4 years ago. If your on FB come check it out.
I love to spend my time with my hubby & boys. We love to be out in nature especially the beach & the forest. I belong in the forest, I guess all pixie's do hee hee. My friends call me Pixie due to my size I'm 5'1 and barely 100 pounds with really long red and silver hair hee hee.
I collect stones like hag stones, labradorite, amethysts, quartz etc… I also collect witch statues, Goddess statues, owls, crows and the Moon. Oh & sea glass I cant forget that. Do tattoos count? If so I have over a 100 of them I'm about 80% covered.
Another hobby is photography. I love taking pictures of nature such as flowers, animals, trees, mountains, the ocean and my favorite of all the Moon.
I love to unwind two ways one is with a great book, usually witchy or paranormal ones catch my attention the most. I do read & research a lot about the human body and diseases due to my families rare health issues. The other is going outside under the stars and Moon. What a great way to end the day looking up at the dark beautiful sky.
That's pretty much it, you see what you get hee hee. You either love me or hate me. Hopefully you all will love me haha.