Review of Fred Hageneder's Tree Angel Oracle Deck
The Tree Angel Oracle Deck
Bright Blessings!
I was thrilled to go to the mailbox, and find among the unwelcome bills the beautiful Tree Angel Oracle Deck to review!
The author is Mr. Fred Hageneder, and I am surprised we don't talk about him more in our Pagan circles.
His bio, as written on innertraditions.com states,
"Fred Hageneder is a leading expert in ethnobotany, specializing in the cultural and spiritual history of trees. A founding member of the Ancient Yew Group in Britain and a member of SANASI, a scientific group that helps protect indigenous sacred sites, he is also a member of the Ecocentric Alliance. The author of 2 books and a musician who composes music for various tree species, he lives near the Black Mountains in Wales."
I did a bit of research, and SANASI is Sacred National Sites Initiative, and are a group of professionals who work together to provide info about sacred sites. Their web page can be accessed here: SANASI – a world database on sacred natural sitesSANASI – a world database on sacred natural sites
He is also a co-founder of Friends of Trees, and you can read about them here:
He's published books, all of which can be found on this page below, and his oracle deck I am reviewing can also be found here:
https://www.amazon.com/s?k=fred+hagenader&ref=nb_sb_noss_2
The pricing is quite reasonable!
No ordinary tarot deck, this focuses on the lore and meaning of different trees, and each one of the 35 cards correspond to a different tree. In the book included, Hageneder writes, " Tree angels exist. Yet, although I can sense them, I cannot see them. This is why, I have, until now, refrained from compiling a tree oracle, because an oracle needs inner sight…Two reasons lie behind the fact that I am now attempting to portray tree oracles, despite being aware of the limitations of my perception and understanding of higher worlds: the writings of Carl Gustav Jung, the father of analytical psychology; and a vision I experienced. "
He goes on to say his vision came at a Kundalini Yoga meeting in France in 2000. During meditation, he found himself in a vision on the edge of a circular clearing encircled by woodland trees. Each species of tree which can be found in Northwest Europe could be seen. The birch tree took his hand and introduced him to the council! In telepathy, the members of the council gave him the message that his name meant many things including bringer of life, sacred grove, and decree of the council of elves. He decided that he was thus given the go ahead to make the oracle happen!
What a beautiful vision!
And he created an absolutely beautiful deck as well.
Artwork by Anne Heng really portrays the bright life giving nature of trees, and how they are literally the lungs of this planet. They are our hope, and for Hageneder, more than just that, but divine messengers whose loving guidance are right at our fingertips thanks to this deck.
Many buy decks, memorizing meanings. I don't. I go by intuitive reading only, and if you ask me traditional meanings, I will refer you to your local bookstore or internet search. But if you don't mind memorizing, it's absolutely worth it to use this deck.
The cards, themselves, due to the gorgeous artwork, are a pleasure to behold, and have a nice size and weight to them. Aside from Heng's gorgeous illustrations, the intimate, inspiring guide and meanings of the cards make you want to pull from this deck again and again.
While it's not specifically stated this can be used for upright and reversed meanings, it is indicated what LACK of the tree's influence can mean, so go ahead and do upright and reversed meanings if you so choose.
As to how the deck did- it was perfect, and the guide eloquently explained things.
The individual who volunteered to be read for asked about a move planned. He wanted to know if things would go better in his life once he moves back to his hometown this coming Fall? He was also saying he was considering NOT moving after all!
The cards pulled were:
1) Horse Chestnut
2) Hawthorn
3) Olive
The meanings were:
1) Horse Chestnut- " It teaches us an ancient trust: to wait peacefully until it is the right time to act…without the blessings of the horse chestnut, we are quick to lose patience…stay with it! Be patient!"
2) Hawthorn- This indicates unity is at hand. " If the hawthorn comes to you today, the way is open…you are invited to step closer…but do not search outside for what you cannot find within."
3) Olive- "The olive brings abundance and riches in a way no other tree can, and because of this, the olive also brings peace."
These three cards together delivered a clear massage. He should do this move and return to his hometown. But he is going to have to be patient during this wait. It's early Spring, and he has to wait until Fall time, which is many months, and it's frustrating! The open way means it's timely and meant to be- and the part about not seeking outside of ourselves for what is not within us reminded me of the fact as human beings we can be so fixated on an end goal- we attach all our sense of well being on fulfillment of this. But- unfortunately- while situations can help us, we often create our own unhappiness, and wherever you go, we take our own bad habits and attitudes that need changed with us. As some would say "Same shit, different day" but this would be "Same shit I impose on myself, different address." Finally, the blessings and peace this brings? It is absolutely unanimous this move needs to happen, and yes, while life is not 100% all we expect it to be, yes, things WILL be better once he moves back home.
This is a good oracle deck I recommend, folks.
Blessed Be!
The Tree Angel Oracle Deck: The Ancient Path into the Sacred Grove on Amazon
***
About the Author: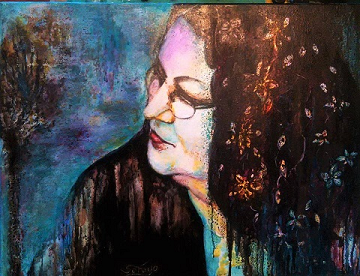 Saoirse is a practicing witch, and initiated Wiccan of an Eclectic Tradition.
A recovered Catholic, she was raised to believe in heaven and hell, that there is only one god, and only one way to believe. As she approached her late 20's, little things started to show her this was all wrong. She was most inspired by the saying "God is too big to fit into one religion" and after a heated exchange with the then associate pastor of the last Xtian church she attended, she finally realized she was in no way Xtian, and decided to move on to see where she could find her spiritual home.
Her homecoming to her Path was after many years of being called to The Old Ways and the Goddess, and happened in Phoenix, Arizona. She really did rise from her own ashes!
Upon returning to Ohio, she thought Chaos Magic was the answer, and soon discovered it was actually Wicca. She was blessed with a marvelous mentor, Lord Shadow, and started a Magical Discussion Group at local Metaphysical Shop Fly By Night. The group was later dubbed A Gathering of Paths. For a few years, this group met, discussed, did rituals, fellowship, and volunteering together, and even marched as a Pagan group with members of other groups at the local gay Pride Parade for eight years.
All the while, she continued studying with her mentor, and is still studying for Third Degree, making it to Second Degree thus far.
She is a gifted tarot reader, spellworker, teacher, and was even a resident Witch at a Westerville place dubbed The Parlor for a time.
Aside from her magical practice, she is a crocheter, beader, painter, and a good cook. She has been a clown and children's entertainer, a Nursing Home Activities Professional, a Cavern Tour Guide, a Retail Cashier, and a reader in local shops. Her college degree is a BA in English Writing. She tried her hand at both singing and playing bagpipes, and…well…let's just say her gifts lie elsewhere! She loves gardening, reading, antiques, time with friends and soul kin, and lots and lots of glorious color bedecking her small home!
On the encouragement of a loved one several years back, she searched for a publication to write for, and is right at home at PaganPagesOrg.
She is currently residing in Central Ohio with her husband, and furbabies.
Saoirse can be contacted at [email protected].