Book Review – Seventy-Eight Degrees of Wisdom: A Tarot Journey to Self-Awareness – A New Edition of the Tarot Classic by Rachel Pollack
Book Review
Seventy-Eight Degrees of Wisdom
A Tarot Journey to Self-Awareness
A New Edition of the Tarot Classic
by Rachel Pollack
368 Pages
Seventy-Eight Degrees of Wisdom, A Tarot Journey to Self-Awareness, A New Edition of the Tarot Classic, by Rachel Pollack, originally published in 1980 and 1983 (as a two-book set), also 1997, 2007 and republished in 2019 by Red Wheel/Weiser, LLC, 65 Parker Street, Suite 7, Newburyport, MA 01950. This is a 6 inch by 9 inch by 1 1/8 inch thick soft cover book with a matt color front cover containing the title of the book, and four reviews and a brief author bio on the back cover. There are 368 pages with a readable black typeface printed on off-white paper.
The book begins with a preface to this third edition written by the author. Next is Part One, The Major Arcana, which runs from page 3 to page 142. Pollak begins this section with an Introduction that addresses the history of the Tarot and possible sources for the symbolism found in the images of the cards. She also explains that the images in the book are based on the Rider/Waite/Smith deck, and why she chose this as the primary deck of her book. Pollak then presents some interesting concepts, such as the Four Card Pattern, the cards as a sequence, and the separation of the Majors into several areas of experience: The Opening Trumps: Symbols and Archetypes, The Worldly Sequence: The Major Arcana and Personal Growth, Turning Inwards: The Search for Self-Knowledge, and The Great Journey: The Goal of Enlightenment, with a brief explanation of each areas.
The card descriptions are presented within each corresponding area of experience. Each card description averages 1 to 3 pages, with at least one black-and-white image of the card discussed. What I love about these individual card descriptions is that they are not presented within a specific format; there are no keywords or phrases or affirmations, rather Pollak presents detailed information regarding possible sources of symbolism of the individual card images (historical, psychological, metaphysical, numerological, or combinations of all, and more). Pollack is not spoon-feeding us card meanings or possible messages for a seeker, rather she is giving us the background explanations as well as the opportunity for each of us to connect with the image and form our own keywords and potential meanings from the information presented.
Part Two, The Minor Arcana which runs from page 145 to page 259, is equally well-crafted and filled with useful information. Part Two begins with its own Introduction that explains why the Rider/Waite/Smith deck changed how the Minor Arcana was viewed by Tarot readers (it was the first deck with images on the Minor Arcana numbered cards, rather than geometric patterns of the suit), then a description of the four suits, an explanation of the tetragrammation, and the concept of Gate Cards.
The card description section begins with a definition of the suit, followed by the cards that suit, beginning with the King and ending with the Ace. Like the card descriptions in Part One, there are no keywords or phrases, rather information is provided regarding the symbolism of the individual cards, both as upright and reversed.
Part Three, Readings which runs from page 263 to page 349, offers several spreads and substantial sample readings, as well as a section describing how to use Tarot readings and what we learn from Tarot readings. The book ends with a Bibliography and a handy Index.
This is not a beginner-level book that focuses on introducing a reader to the cards using keywords, key phrases and affirmations. But that does not mean Seventy-Eight Degrees of Wisdom would not be useful to a beginner who is in the early stages of exploring and learning about the Tarot. Rather than offering written-in-stone meanings and messages or a step-by-step method for creating readings, this book offers information regarding the symbols of the Tarot, possible sources of those symbols, and potential reasons for their use and their methods for accessing self-knowledge, healing and personal growth. This background information effectively lights up our curiosity about the cards. It is up to each of us to decide what is relevant, fitting, and effective.
Whether beginner or more advanced, this is a book that can be picked up again and again and still offer new information, new points of view, and new impacts from the cards and their meanings. You should be warned, however, that Pollak's in-depth analysis of the individual cards and the Tarot in general will most certainly send you down a few rabbit holes of pondering and research. But that is a good thing!
***
About the Author: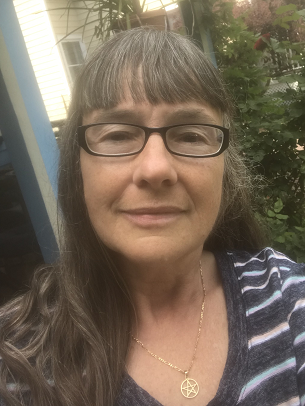 Raushanna is a lifetime resident of New Jersey. As well as a professional Tarot Reader and Teacher, she is a practicing Wiccan (Third Degree, Sacred Mists Coven), a Usui Reiki Master/Teacher, a certified Vedic Thai-Yoga Massage Bodyworker, a 500-hr RYT Yoga Teacher specializing in chair assisted Yoga for movement disorders, and a Middle Eastern dance performer, choreographer and teacher.  Raushanna bought her first Tarot deck in 2005, and was instantly captivated by the images on the cards and the vast, deep and textured messages to be gleaned from their symbols. She loves reading about, writing about, and talking about the Tarot, and anything occult, mystical, or spiritual, as well as anything connected to the human subtle body. She has published a book, "The Emerald Tablet: My 24-Day Journal to Understanding," and is currently working on a book about the Tarot, pathworking and the Tree of Life. Raushanna documents her experiences and her daily card throws in her blog, DancingSparkles.blogspot.com, which has been in existence since 2009. She and her husband, her son and step son, and her numerous friends and large extended family can often be found on the beaches, bike paths and hiking trails of the Cape May, NJ area.