Book Review – Tarot For Self-Care: How to Use Tarot To Manifest Your Best Self by Minerva Siegel
Book Review
Tarot For Self-Care
How to Use Tarot To Manifest Your Best Self
by Minerva Siegel
256 Pages
Tarot For Self-Care: How to Use Tarot To Manifest Your Best Self, by Minerva Siegel, published in 2019 by Adams Media, an Imprint of Simon & Schuster, Inc, 57 Littlefield Street, Avon, Massachusetts 02322. This is a 7 1/4 inch by 9 1/2 inch hardcover book with a matte finish front cover in lavender, gold and cream containing the title of the book and some Tarot-based symbols, and a description of the book and a brief author bio on the back cover (with the same colors). There are 256 pages with a readable lavender typeface (some titles in gold) printed on off-white paper.
The book begins with introductory information, including an Introduction followed by a section titled "Self-Care" that defines the different types of self-care connected to this book. The meat of this book is divided into three parts. Part 1: The Art of Reading Tarot contains useful information for setting the stage for a reading. This information is more expanded than most how-to books. Siegel talks about readying your mind for a reading, but she also talks about using candles, smudging, tea leaves, music, and bathing or showering as a preparatory ritual, along with exercises for connecting with each of these methods. Next is a crash course on the Major Arcana (along with Spiritual Self-Care Tips for some of the cards), an explanation of Tarot Numerology and the Suits of the Minor Arcana, along with an element, time association, season, suggested crystals and self-care question for each Minor suit. Then comes 17 pages of information regarding spreads, including possible shuffling techniques and descriptions of several spreads.
Part 2: Self-Care and the Cards consists of over 160 pages. Each card section contains a card image from a deck associated with the book, a card interpretation, a reversed card interpretation, and three Self-Care Card Activities, one each for Mind, Body and Spirit. The Major Arcana card sections also include a description of the symbolism of the image for each card. The descriptive paragraphs are well-worded, and effectively connect the meanings of a particular card with specific issues and several methods for solving them.
Part 3: Optimizing Your Self-Care goes a bit deeper than most beginner how-to books, discussing the ways that combining the Tarot with meditation, crystals, and astrology can deepen a connection to your intuition; there is even a section on working with Tarot and the Shadow Self. Sprinkled throughout are Spiritual Self-Care Activities, and Physical, Mental and Spiritual Self-Care Tips. The book ends with a useful index.
Tarot cards are not just tools for magickal divination; they have real and valuable everyday applications not necessarily directly connected to divination. The Tarot can give us out-of-the-box perspective and advice for solving challenges. The Tarot is also a very effective self-counseling tool. Tarot For Self-Care presents detailed instructions for using the cards of the Tarot to achieve physical, mental and spiritual balance and wellness, and for encouraging self-growth. The card descriptions are great for a Tarot beginner as well as for healers and counselors. The suggested physical, mental and spiritual exercises not only assist in connecting with the individual cards, but also present other potential self-care processes and disciplines that support and strengthen the healing focus of the cards and their meanings. The Self-Care Card Activities and Physical, Mental and Spiritual Self-Care Tips offer practices that enable us to be effective self-healers.
This is a how-to-read-the-Tarot book with a self-care focus. The theme of self-care is laced throughout the book; in my opinion this does not distract from the effectiveness of the Tarot reading teachings of this book even if you are not interested in or involved in self-care. Tarot For Self-Care is appropriate for the beginner as well as the more experienced reader. While the focus is on the self, a reader can certainly offer valuable suggestions to a seeker who is dealing with a challenge, by making use of the information and methods provided in this book.
***
About the Author: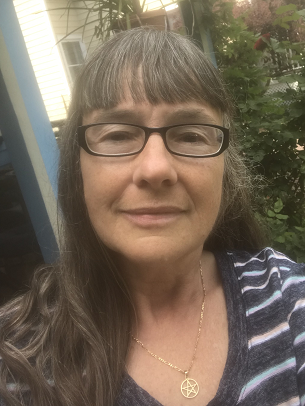 Raushanna is a lifetime resident of New Jersey. As well as a professional Tarot Reader and Teacher, she is a practicing Wiccan (Third Degree, Sacred Mists Coven), a Usui Reiki Master/Teacher, a certified Vedic Thai-Yoga Massage Bodyworker, a 500-hr RYT Yoga Teacher specializing in chair assisted Yoga for movement disorders, and a Middle Eastern dance performer, choreographer and teacher.  Raushanna bought her first Tarot deck in 2005, and was instantly captivated by the images on the cards and the vast, deep and textured messages to be gleaned from their symbols. She loves reading about, writing about, and talking about the Tarot, and anything occult, mystical, or spiritual, as well as anything connected to the human subtle body. She has published a book, "The Emerald Tablet: My 24-Day Journal to Understanding," and is currently working on a book about the Tarot, pathworking and the Tree of Life. Raushanna documents her experiences and her daily card throws in her blog, DancingSparkles.blogspot.com, which has been in existence since 2009. She and her husband, her son and step son, and her numerous friends and large extended family can often be found on the beaches, bike paths and hiking trails of the Cape May, NJ area.