Book Review – The Only Tarot Book You'll Ever Need: A Modern Guide to the Cards, Spreads, and Secrets of Tarot by Skye Alexander and Mary Shannon
Book Review
The Only Tarot Book You'll Ever Need
A Modern Guide to the Cards, Spreads, and Secrets of Tarot
by Skye Alexander and Mary Shannon
272 Pages
The Only Tarot Book You'll Ever Need: A Modern Guide to the Cards, Spreads, and Secrets of Tarot, by Skye Alexander and Mary Shannon, published in 2019 by Adams Media, an Imprint of Simon & Schuster, Inc, 57 Littlefield Street, Avon, Massachusetts 02322. This is a 7 inch by 9 1/8 inch softcover book with a matte finish front cover in turquoise, red and cream containing the title of the book and some Tarot-based symbols, and a description of the book and a brief author bio on the back cover (with the same colors). There are 272 pages with a nicely-sized black typeface (titles in turquoise) printed on substantial and smooth white paper.
The book begins with a brief Introduction. Chapter 1, Introduction to Tarot, offers some basic defining information, including a very brief history of the Tarot, a description of the Major Arcana, the Minor Arcana and the Court Cards, and the numbered cards. Chapter 2, Getting Started: Tarot Basics, presents information about choosing and purifying a deck, the symbols of the suits, numerology, and colors. Chapter 3, A Path To Awakening Your Intuition, talks about connecting to your cards and awakening your intuition.
Chapters 4 and 5 present 189 pages of detailed information about the Major Arcana (Chapter 4) and the Minor Arcana (Chapter 5). Each card section includes a full-page color image of the card from a beautiful deck associated with this book, and a description of the card and its possible meanings, and an upright and a reversed card interpretation. The Major Arcana card sections also include a general Interpretation of the card.
Chapter 6, Tarot Spreads, talks about the significator card, shuffling methods, and describes several useful spreads. Chapter 7, Practical Tarot: Using Tarot In Your Everyday Life, offers valuable information regarding reading for others, using the Tarot for meditation or spiritual guidance, and creating your own spreads and your own deck. The book ends with a useful index.
This is a great book, lushly colored and substantial enough to invite using it regularly. The Tarot is explained in simple terms that are easy to understand, the instructions and card interpretations are comprehensive without going too deep, and the card images are based on traditional Tarot symbolism presented in a vibrantly-colored style. As a bonus, there are useful Tarot Tips sprinkled throughout the Chapters.
The Only Tarot Book You'll Ever Need does not delve into such concepts as astrology, archetypes, or the Tree of Life. Rather, it presents the Tarot in a very approachable manner, with lots of useful details that don't overwhelm. The information on the cards themselves is presented in an organized fashion and is easy for a beginner to absorb, and the Tarot Tips offer little bits of interesting information about individual cards. A beginner could use this book alone and become an effective reader. This could very well be The Only Tarot Book You'll Ever Need!
***
About the Author: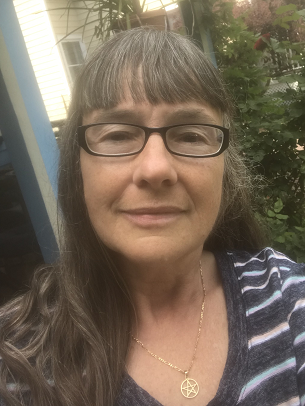 Raushanna is a lifetime resident of New Jersey. As well as a professional Tarot Reader and Teacher, she is a practicing Wiccan (Third Degree, Sacred Mists Coven), a Usui Reiki Master/Teacher, a certified Vedic Thai-Yoga Massage Bodyworker, a 500-hr RYT Yoga Teacher specializing in chair assisted Yoga for movement disorders, and a Middle Eastern dance performer, choreographer and teacher.  Raushanna bought her first Tarot deck in 2005, and was instantly captivated by the images on the cards and the vast, deep and textured messages to be gleaned from their symbols. She loves reading about, writing about, and talking about the Tarot, and anything occult, mystical, or spiritual, as well as anything connected to the human subtle body. She has published a book, "The Emerald Tablet: My 24-Day Journal to Understanding," and is currently working on a book about the Tarot, pathworking and the Tree of Life. Raushanna documents her experiences and her daily card throws in her blog, DancingSparkles.blogspot.com, which has been in existence since 2009. She and her husband, her son and step son, and her numerous friends and large extended family can often be found on the beaches, bike paths and hiking trails of the Cape May, NJ area.